February 2011
Minnesota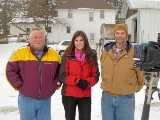 On Friday, January 28, the members of the Minnesota AgrAbility Project hosted a day long event for local media to promote the work of the Minnesota AgrAbility Project. The day began with a visit to the farm of an AgrAbility alumnus, filming a story for the evening news on KEYC Channel 12 located in Mankato, Minnesota. The story described how AgrAbility was able to help the farmer continue farming after a farming accident resulted in the loss of one of his legs. The farm site accommodations that needed to continue on the farm were highlighted.
The next stop was "The Land" office to do an interview for an upcoming issue of their newspaper. The participants interviewed included Minnesota AgrAbility Project staff and a Vocational Rehabilitation counselor.
The Land is a weekly newspaper published in Mankato, Minnesota. It serves farmers, ranchers, rural residents, and agribusiness across the entire state of Minnesota. Its two circulation zones, geographically covering approximately the southern one-third and northern two-thirds of the state, alternate weeks. The Land newspaper was founded in 1976, and has a distribution of 35,000.
The final stop of the day consisted of participating in a radio show that was dedicated to AgrAbility outreach services. A representative from Vocational Rehabilitation also participated, and was able to share the relationship between AgrAbility and Vocational Rehabilitation.
Media Day was a huge success, sharing information regarding the Minnesota AgrAbility project across the state of Minnesota.
Submitted by Carol Fury