February 2011
Missouri
Jackie Allenbrand, MERIL and Don Schuster, University of Missouri Extension reported that the 2011 Great Plains Vegetable Grower's Conference and Trade Show in St. Joseph had a better than usual turn out because they combined several statewide organizations into one huge show. On Thursday there were 390 attendees, 470 on Friday, and 420 on Saturday. Overall, it was a great conference. The AgrAbility Gardens for Every Body and Skin Cancer displays along with corresponding materials for handout were available. Minority farmers such as Amish and Mennonite farmers visited the booth asking questions, as well as a small non-profit organization working with at-risk Kansas City youth. A representative from the Missouri Botanical Garden expressed interest in learning ways to build a better accessible garden display; and the Missouri Department of Agriculture Tourism and Marketing stopped by to learn more about AgrAbility and to discuss how their individual farmers might interact or participate. The MDA also expressed interest in social networking (marketing) opportunities such as placing a "blog" on their website with a link to the Missouri AgrAbility Project.
---
Jackie showcased the AgrAbility Program with the University of Missouri Buchanan County Extension Center during the St. Joseph Farm Show. The show was a 2 day event on January 28-29 and was held at the Civic Arena. Missouri AgrAbility distributed materials, explained the project, and networked with other vendors. "This was a worthwhile show because AgrAbility received six new farmer referrals," Jackie reported.
---
On behalf of the ACESS II ILC planning committee Jackie and Don reported the spring 2011 day-long AgrAbility Workshop is underway. A draft agenda has been detailed along with anticipated speakers, audience, and potential funding sources. The workshop will discuss on-farm disabilities and health issues relative to all persons on the farm. Several potential sponsors will be contacted in addition to Missouri's agreed sponsor, USDA-FSA.
---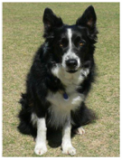 Jackie continues to explore ways service dogs are trained to assist farmers with tasks specific to the farming occupation with the P.H.A.R.M. Dog (Pets Helping Agriculture in Rural Missouri) program. P.H.A.R.M. Dog provides a unique and rewarding help for farmers with disabilities. Having access to a dog that can perform, or assist the farmer in performing, physical tasks are of great benefit. The goal of P.H.A.R.M. Dog is to help farmers remain independent, active, and productive in agriculture by providing them with a dog trained for their specific needs.
---
Missouri's newest AgrAbility client referral to RSB is receiving four of the six recommended adaptive devices. This case will not be closed with hopes of completing the remaining recommendations. The recommendation accepted by all parties is a trained stock dog to assist in on-farm duties and protection of the client around livestock.
---
Community leaders in the West Central Region are promoting success in agriculture for people with disabilities by working with the University of Missouri Extension, On My Own Independent Living Center, and Division of Vocational Rehabilitation to co-host an AgrAbility workshop on March 9, 9am–3 pm, at On My Own, Inc. 428 E Highland, in Nevada, MO. Speakers include RSB, VR, AF, PHARM Dog, AgrAbility, USDA-FSA, and Extension. USDA-FSA will provide support to this AgrAbility workshop and several others across the state.
---
Winter weather didn't worry those attending the 25th annual Heartland Agriculture and Natural Resources Expo Friday and Saturday in Southeast Missouri at the Black River Coliseum in Poplar Bluff. The goal through all 25 years of the expo is to promote agriculture and its importance in this region. Numbers have really increased through the years. This year there were 120 exhibitors and approximately 12,000 in attendance regardless of the cold snowy weather. Russell and Wanda Ramsey, AgrAbility Volunteers and Don Schuster, CATS, AgrAbility greeted and answered questions regarding the Missouri AgrAbility Project. Attendees participating at the conference were from throughout southern Missouri and northern Arkansas.
---
Russell continues to lead Missouri's effort to formalize a statewide AgrAbility volunteer peer support network. The AgrAbility peer support network will help consumers cultivate independence by sharing ways in which they cope with the "ups and downs" of their disabilities and tips they learned to navigate the managed care system.
---
Russell and AgrAbility staff members continue to finalize Missouri's Client and Caregiver Barn Builders publication. The AgrAbility publication will include past and present clients with disabilities and caregivers from all eight University of Missouri Extension regions who will be available to help others with similar disabilities reap the benefits of assistance, services, and networking opportunities.
---
AgrAbility staff members, Extension specialists, and the Eldon rural fire department are planning a training workshop in conjunction with the Missouri Vocational Agriculture Teachers Association (MVATA) state conference. The purpose of MVATA state conference is to improve Agricultural Education as a profession and to improve agriculture and agri-business as vocations in the state of Missouri. The Missouri Vocational Agriculture Teachers Association (MVATA) is composed of certified teachers of Vocational Agriculture who teach in the secondary, post-secondary, and adult schools of Missouri. Information about the AgrAbility Program will be presented and teaching tools and resources for Missouri vocational agriculture teachers will be provided.
Submitted by Karen Funkenbusch