February 2011
National Agrability Project
The Northwest AgrAbility Workshop, in Corvallis Oregon on the campus of Oregon State University February 24-25, 2011, is a two day event that has been designed provide AgrAbility staff with a solid foundation for advancing the needs of farmers and ranchers with disabilities. In addition to detailed information about the background, organization, and resources of AgrAbility, participants will engage in planning and conducting on-farm assessments while working in cohorts with a subject matter expert. Each cohort will develop an assessment report and present the report to VR agency personnel for experience and feedback. Click here for agenda.
Contact Eric Olson, National AgrAbility Project Manager, Goodwill Industries International, (240) 333-5282 eric.olson@goodwill.org with any questions.
Submitted by Eric Olson
---
Steve Swain, ATP, the Assistive Technology Specialist for the NAP, presented two workshops at the Assistive Technology Industry Association (ATIA) conference in Orlando, Florida. The first workshop titled Vocational Rehabilitation Services Specialty Crop Farm Accessibility Case Study examined the resources available to farmers and ranchers with disabilities and went through a case study of a specialty crop farmer. The second presentation was Evaluating Agricultural Workplace Assistive Technology for Secondary Injury Hazards, which introduced the NAP assessment tool by the same name.
Submitted by Steve Swain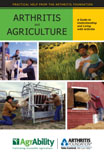 ---
The "Arthritis and Agriculture" and "Plain Fact about Arthritis" publications have been updated and reprinted and are offered at a discounted pre-order price for a limited time only! Order your copies before March 4, 2011 for the discount to apply. Please see the order form here or online at www.arthritis-ag.org to order. A new plastic brochure holder is also available for these publications. Don't wait! The prices will increase after March 4.
---
The national arthritis and agriculture conference planning committee continues working on the Arthritis, Agriculture, and Rural Life: State of the Art Research, Practices, and Applications conference (AARL conference), which will be held at the Purdue University Beck Center in West Lafayette, IN May 11-13. This conference is planned for professionals from rural areas to discuss how to help clients with arthritis. AgrAbility staff will be invited to speak and attend, as well as invite attendees from their areas. The conference will include a day of farm tours for hands-on applications and experiences. Dr. Steven Kirkhorn will be our Keynote Speaker. A list of confirmed speakers and topics, hotel accommodations, and travel information is available online at www.arthritis-ag.org. Registration information will be available soon. For more information, please contact Amber Wolfe at awolfe@arthritis.org or (800) 783-2342.