September 2011
Missouri
Using Adobe Connect web conferencing, Willard Downs and Karen Funkenbusch have been able to provide monthly AgrAbility and Gardens for Every Body updates to agricultural systems management and Extension regional faculty. Adobe Connect has been an effective method to successfully provide services that meet the USDA priorities - education, network, assistance, and marketing.
---
Russell Ramsey, MO AgrAbility volunteer farmer and liaison, presented AgrAbility at the Missouri Retired Vocational Agriculture Teachers Association annual meeting. The MRVATA is composed of certified Vocational Agriculture teachers who teach in the secondary, adult, and post-secondary schools of Missouri. Russell also provided each of the Barn Builders with a copy of the AgrAbility video and CD version of the Toolbox. Lastly, Russell is working with the University of Missouri Extension to finalize the MO Barn Builders publication. Watch for more updates!
---
AgrAbility staff from the University of MO Extension demonstrated AT devices in agriculture at the Missouri State Fair: It's a Show Me Thing!, August 11-21, 2011, in Sedalia, Missouri. Fairgoers learned about assistive technology and adapted devices used by small acre farmers and picked up AgrAbility materials.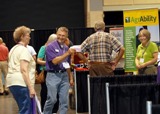 ---
Kansas, Missouri, and National AgrAbility programs participated at the National Association of County Agricultural Agents (NACAA) Annual Conference. As requested, the University of Missouri Extension AgrAbility Gardens For Every Body program provided small acre gardening materials to be disseminated at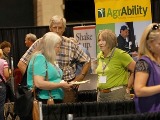 the 2011 NACCA Reach for the Stars annual conference. The NACAA annual conference offered a unique blend of metropolitan amenities with suburban hospitality. Reach for the Stars is a play on Kansas' state motto, Ad Astra per Aspera, which means "To the stars through difficulties."
---
Volunteer master gardeners presented MO AgrAbility Gardens for Every Body programs throughout rural Missouri to the public with small acres. Participants learned how to select ergonomic and enabling garden tools, techniques to modify tools, efficient and effective methods to gardening on small acreages, and how the AgrAbility program assists farm and rancher operators with disabilities, including those living and working on small acres.
Submitted by Karen Funkenbusch