October 2011
Missouri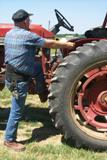 The MO AgrAbility Program hosted a booth during the University of Missouri Extension Southwest Center, Ag Field Day—Adults; 51st Year of Science in the Public Service, in Mount Vernon. More than 1,000 participants picked up ergonomic tractor, farm equipment, or utility vehicle information and AgrAbility resources.
---
Each year, the Southwest Center also invites high school agricultural education classes from the surrounding area to participate in a day of learning. Speakers present information on agricultural health, safety, and wellness topics to students in a field day setting with tours around the farm with short 20 minute informational stops. As such, University of Missouri Extension AgrAbility staff members were on hand to present during the agricultural education field day. This year's attendance was 328 students representing 28 schools.
---
Karen Funkenbusch was invited to present the AgrAbility Gardens for Every Body Program at the Active Living, Learning, & Working with Assistive Technology for Kansans AT Expo 2011, in Topeka, Kansas. She discussed and demonstrated "Assistive Technologies and Adapted Devices for Living, Learning, and Working" in small acre gardens. Karen also reported it was exciting to see a hall filled with exhibitors ready and willing to talk about their services and demonstrate their assistive technologies and adapted devices.
---
Working in collaboration with schools, community groups, and other health care providers, the MO AgrAbility Program participated in the MU Health Care, University of Missouri Health Care System Falls Prevention Week clinic. The Frank L. Mitchell Jr., MD, Trauma Center and University School of Physical Therapy hosted a large Falls Prevention Clinic for older adults. Participants received free health screenings, educational resources, and ways to improve their health to prevent detrimental and life-changing falls. Through this public outreach clinic older adults were also provided a dance floor and dance instructors for a fun twist. As expected, there was a large participant turn out, through magazine write-ups, radio announcements, and television interviews promoting the free clinic. University of Missouri Extension AgrAbility staff members and health promotion students joined in the public outreach clinic by providing fall prevention resources and demonstrated preventive tips and techniques geared specifically to the MO AgrAbility customer.
---
To complement the AgrAbility Gardens for Every Body tool shed, a new series of horticulture DVDs for living, learning, and working were purchased and available for check-out. The series of five DVDs prepares participants for work with tools used in landscaping, grounds maintenance, nursery production, agriculture, agricultural engineering, and other horticulture areas of interest. Participants can also learn about ergonomics, how to avoid injuries, how to choose the best tool for the job, and how to maintain your tools. Lastly, participants can learn about the safe use and maintenance of more than 80 hand tools that make possible and simplify a wide range of horticulture projects.
---
University of Missouri Extension AgrAbility staff members and graduate level agricultural systems management students were on hand to present two 30 minute AgrAbility sessions on ergonomic tractors and ATV safety during the Missouri's Cattlemen Foundation, 9th Annual Farm Safety College. Students from Sixth through twelfth grade rural schools and FFA chapters were divided into multiple groups and rotated through each learning station. Approximately 150 students attended the 2011 Farm Safety College hosted at the Mizzou Beef Research & Teaching Farm.
---
Thirty undergraduate agriculture students at the University of Missouri completed an online Disability in Agriculture module. The Disability in Agriculture module provided students with an introduction to disability in agriculture, the values of agricultural workers with disabilities returning to their chosen occupation, the hazardous nature of agriculture, the needs of agricultural workers with disabilities, the safe selection and placement of assistive technologies and adapted devices in an agricultural setting, and availability of resources.
---
Jackie Allenbrand, MERIL AgrAbility Outreach Coordinator, reported that PHARM® Dog was the featured story at the Electric Cooperative Building at the Missouri State Fair during Farm Family Day. Staff  members gave away 400 bags of dog bones!
---
MO AgrAbility attended the Hundley Whaley Research Farm FFA Field Day. Staff members provided two sessions to thirty five students and agricultural instructors about the PHARM Dog program. Fifteen schools participated.
---
Staff members assisted with the ADA event coordinated by MERIL and ACCESS II Independent Living Centers. Ray Petty with the Great Plains ADA center presented information on updates involving ADA regulations. Forty eight participants viewed the AgrAbility display and picked up resource materials as a part of the vendor displays. The new AgrAbility video was also played during the breaks.
---
Staff members attended the Chamber of Commerce Ag Division meeting where Colin Foster, Soaring Hope Equine Assisted Therapy Center, was the presenter. Staff members visited with him after the meeting to provide information about the MO AgrAbility Project.
---
AgrAbility customer Lyle Fletcher from the Central Missouri region received an 11 week old puppy. Lyle will raise the pup and when it is close to a year old the dog will be trained for his needs. This particular pup was donated after a family read the PHARM Dog article in the Electric Cooperative magazine. The PHARM® Dog currently has fourteen dogs that have come back from the "puppy raisers" ready for training at the Allenbrand farm.
---
Over the many years that Missouri has been funded as an AgrAbility SRAP project, Karen Funkenbusch and Willard Downs have essentially worked together as Co-Directors of the project. They serve together as Co-PIs for the project in our current grant cycle. Previously, Willard managed day to day activities of the project while Karen has led efforts on special projects such as Arthritis and work with the University of Missouri Medical School.
Beginning September 1, 2011, Karen and Willard effectively have switched roles and she has assumed day to day management and leadership of the project, while Willard plans to work on specific project goals and objectives. In keeping with this change, they would appreciate it if you will make Karen your first point of contact on general AgrAbility issues and communications.
Willard looks forward to the opportunity to work more individually with some of you as he undertake efforts to advance the project in important areas.
Submitted by Karen Funkenbusch, Willard Downs, Don Schuster, Russell Ramsey, and Jackie Allenbrand