November 2011
Other News
Bilingual Arthritis Teaching Tools for Migrant and Seasonal Farmworkers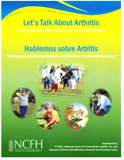 Let's Talk About Arthritis (Hablemos Sobre Artritis) is an arthritis prevention and self management program specifically created for migrant and seasonal farmworkers. This Spanish/English educational program successfully combines the Lay Health Worker Model adopted by NCFH in many of its programs and the most current information on arthritis, to deliver and disseminate information regarding arthritis prevention and self-management to migrant and seasonal farmworkers.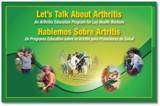 The curriculum is intended to train lay health workers over a two day period on the most relevant topics on arthritis including: an overview on arthritis, basic information on osteoarthritis and rheumatoid arthritis, risk factors, signs and symptoms, and ways to manage arthritis pain.
Another teaching tool is a bilingual flipchart developed for lay health workers to use while they conduct arthritis educational sessions. This flipchart will provide the most important messages on arthritis and self management for communities.
Training opportunities are available to interested organizations. For more information on Hablemos Sobre Artritis training, please contact Monica Fossi at fossi@ncfh.org or Karen Funkenbusch at funkenbuschk@missouri.edu or 1.800.995.8503.
Man Gets Smartphone Dock Built into Prosthetic Arm
Media have picked up on the story of Trevor Prideaux, a resident of Somerset, England, as the first person to adapt his prosthetic arm to contain a dock for his smartphone. Prideaux asked for assistance from Nokia, who provided a shell for creating the correctly sized dock, and medical experts, who modified the arm. The adaptation gives him the agility to easily use his smartphone with his right hand.
Forbes, The Telegraph, and PCWorld
Teen Blinded by Stargardt's Disease Chases Dreams with Guide Dog
Sami Stoner runs cross country with help from Chloe, her guide dog. After four weeks of training with her partner, she has successfully become a member of her high school team despite blindness from Stargardt's disease. As she continues to top her best speeds and win competitions, she has been making plans to attend college with Chloe after graduation.
Read story