February 2012
Missouri
The Missouri FFA executive secretary will send a prepared email on behalf of the Missouri AgrAbility Program to all Missouri FFA advisers alerting them to the NAP preparing to mail the DVD AgrAbility: It 's About Hope to all FFA chapters in the U.S. Additional Missouri FFA activities include placing MO AgrAbility programmatic materials in all FFA students (approx. 8,000) state convention packets, Missouri AgrAbility Project showcased at the Missouri FFA Career Fair, and several prepared MO AgrAbility emails to FFA Advisers over the summer and fall semesters.
---
MO AgrAbility Gardens for Every Body resource materials were requested and mailed to the Chardon Healthcare Center, a rehabilitation facility in Chardon, Ohio. The caller stated that the Chardon Healthcare Center offers a broad range of programs and services to meet the diverse needs of the community they serve.
---
Chris Davis, University of Missouri-Columbia bioengineering graduate assistant working with the MO AgrAbility Project, and his advisors developed an AgrAbility, Ergonomics, & Agriculture tools display and resource materials. The new AgrAbility display will be showcased and resource materials disseminated at the Western Farm Show.
---
The MO AgrAbility Program displayed and distributed AgrAbility information and answered questions at the Great Plains Grower's Conference held at the Fulkerson Conference Center, Missouri Western State University, in St. Joseph, Missouri. Seven hundred participants from Iowa, Kansas, Missouri, Nebraska, and South Dakota attended this year's three day conference. There were also 50+ exhibitors in the trade show. Also, representatives from both the Missouri and Kansas AgrAbility programs fielded questions as well as networked with other vendors to share resources.
---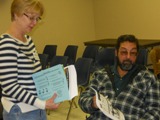 Wanda Ramsey, Missouri farmer volunteer, and Karen Funkenbusch, University of Missouri Extension, showcased the Missouri AgrAbility Program at the Ag Expo 2012 in Poplar Bluff, Missouri. Volunteer farmers and ranchers with disabilities met during the Ag Expo to discuss future ideas and plans for the MO AgrAbility Program. Conference participants also had an opportunity to learn about AgrAbility, Ergonomics, and Agriculture presented by Karen Funkenbusch. On hand were representatives from the Farm Safety 4 Just Kids, University of Nebraska Medical Center – CS-CASH, and University of Missouri Extension to survey part time farmers.
---
As part of their University of Missouri - Columbia course projects, four graduate human development students and three doctoral agricultural education students are busy developing educational materials for the MO AgrAbility Program. Additional information forthcoming.
---
Jackie Allenbrand attended the annual Maryville, Missouri Chamber of Commerce event where over 40 organizations were in attendance. Each service organization provided a two minute overview about their program. AgrAbility brochures were also distributed to all attendees.
---
An AgrAbility booth was showcased at the KQTV Ag & Rural Lifestyle Show in St. Joseph, Missouri. Over 8,000 people attended this two day event. MO AgrAbility, PHARM Dog, and Gardens For Every Body information and resources for individuals with disabilities were disseminated.
---
Jackie Allenbrand attended a speaking engagement featuring U.S. Secretary of Agriculture Tom Vilsack, in St. Joseph, Missouri. Secretary Vilsack spoke on topics such as the labor laws associated with rural youth and USDA programs that will assist farmers. He talked about the new program called Start2Farm that lists resources for individuals interested in learning more about farming. For more information about Start2Farm, go to www.start2farm.gov. Secretary Vilsack toured the farm show and stopped at the University of Missouri Extension booth where Jackie had an opportunity to visit with him and provide information and resources about the MO AgrAbility and PHARM Dog programs. He even took time to stop and pet the dog! Secretary Vilsack was also interested in knowing if Missouri was doing anything with returning veterans.
Submitted by Karen Funkenbusch