October 2012
Georgia
AgrAbility of Georgia has been filming the story of a farmer client with a spinal cord injury, who is receiving physical therapy at the Shepherd Center (shepherd.org), AgrAbility in Georgia's non-profit partner. He is also a client of Vocational Rehabilitation, another AgrAbility of Georgia partner. This particular farmer is using robot-assisted walking therapy with the Lokomat®. The machine helps people improve their ability to walk after disability caused by brain and spinal cord injuries, stroke or neurological and orthopedic conditions.
---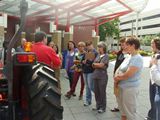 Staff members were invited to hold two sessions at the annual statewide occupational therapy conference in Georgia. The first session was an all day workshop on rehabilitating farmers and ranchers with disabilities, and the second session was an abbreviated two hour version. For the all day workshop, the staff were able to have a tractor provided for therapists to observe hands on and learn more about the challenges farmers may face getting on and off or even operating a tractor due to disabilities.
---
AgrAbility of Georgia will be at the 2012 Sunbelt Expo will take place October 16-18 in Moultrie, Georgia. The expo is one of the largest agricultural shows in the country and is held in Moultrie, Georgia each year. The event attracts upwards of 100,000 visitors from all over the country. For the past 34 years the Sunbelt Expo has provided farmers and their families with a glimpse of the newest available agricultural technology. This show is a primary event in which the AgrAbility of Georgia program receives new client referrals. Come out and visit the staff at the Sunbelt Ag Expo. You will find AgrAbility of Georgia in the same location as previous years at Booth AB-01. Gates open Tuesday and Wednesday 8:30-5:00 and Thursday 8:30-4:00, tickets $10. For more details about the Sunbelt Expo visit their website at sunbeltexpo.com. If you make it to the expo this year stop by and see Georgia staff.
Submitted by Cathy Walters