November 2012
National AgrAbility Project News
Join the NAP and SRAPs for the inaugural Virtual NTW, a series of interactive webinars scheduled for November 27-29. The schedule of events is now available.
The National AgrAbility Project is now on Twitter. Follow @NatlAgrAbility at www.twitter.com/natlagrability.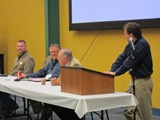 Approximately 50 people participated in the NAP/Indiana AgrAbility workshop, Veterans and Agriculture: Opportunities for Employment, Entrepreneurship, and Enrichment. more
The National AgrAbility Project staffed a display at the National FFA Convention in Indianapolis October 24-26, 2012. more
Amber Wolfe represented the National AgrAbility Project at the 2012 APRIL Conference in Reno, NV from October 5-8. more
Click here for the schedule of upcoming Community of Interest and Standing Committee call information.
Toolbox Spotlight
See what's new in the Toolbox online this month.
State and Regional AgrAbility Project News
Arkansas
Arkansas AgrAbility has recently completed an educational program on preventing low-back injuries. more
California
In October, CalAgrAbility conducted six arthritis trainings and three English language "Taking the Reins" workshops for the arthritis support group in Woodland and the Yuba-Sutter Children's Type 1 Diabetes Support Group & Resource Center. more
CalAg staff trained the Woodland Sexual Assault and Domestic Violence Center employees on Rehabilitating farmers and farm workers. more
CalAgrAbility did an in-service for Migrant Education, Region 2, which specializes in working with migrant students and farm worker families.
The Hear! Here! meeting was held at the Woodland and CalAg continues collaborations with the HLAA of Yolo, including sitting on the board each month to assist in directing activities.
CalAgrAbility participated in Bi-National Health events at the Mexican Consulate and clinics throughout Sacramento and Yolo County sponsored by the Health Education Council and Champions for Change. more
CalAg staffed a booth for the 400 attendees at the Glenn County Health and Safety Fair. more
Georgia
AgrAbility in Georgia has added more examples of items the staff have fabricated to the program's website. Check it out at http://www.farmagain.com/fabrication.html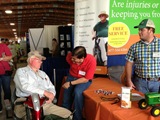 AgrAbility of Georgia staff and community volunteers erected a hoop house for an AgrAbility farmer. more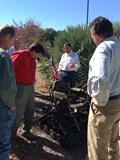 The Sunbelt Expo, one of the largest agricultural shows in the country and held in Moultrie, Georgia each year, was a big hit. more
AgrAbility of Georgia held its semi-annual board meeting in Tifton on November 1. more
Indiana
On October 16, 2012, Steve Swain, rural rehabilitation specialist with the Indiana AgrAbility Project/Breaking New Ground, staffed a display at the Purdue Extension Health and Human Sciences Educators Fall Update Workshop held in Lafayette, Indiana. more
Amber Wolfe, partner at the Arthritis Foundation, gave presentations on Gardening with Arthritis to the Howard County Master Gardeners on October 11 in Kokomo, Indiana and to the Lafayette Trinitarians on October 17.
Amber Wolfe is serving as the facilities chair for the Midwest Women in Agriculture conference to be held February 21-22, 2013 in Columbus, Indiana. more
Linda Tarr has been working with the forestry industry. She participated in the Stump to Product Forestry Field Day, Noble Farm Forestry Field Day, and will have a booth at the Indiana Forestry Owners Association Conference in November.
Maine
Four Maine AgrAbility staff members attended the Northeast AgrAbility Networking Conference in Lancaster, Pennsylvania, October 15-16, 2012. It was a great opportunity to share ideas and discuss challenges and successes.
Mid-Atlantic
The Mid-Atlantic AgrAbility Project hosted the 2012 Northeast AgrAbility Networking Workshop on October 15-16, 2012. more
Missouri
A complete set of Bilingual Arthritis Teaching Tools, which consists of arthritis curriculum and flip chart, can be purchased for $80.00 from the Missouri AgrAbility Project. more
The Missouri AgrAbility Project assisted Rehabilitation Services for the Blind to host their second Counselor Academy on October 18-19, 2012. more
Paul Leverenz, vice-president of FARM & Vocational Services, Easter Seals Wisconsin, and Manuel Lugo, retired deputy administrator for Wisconsin's Division of Vocational Rehabilitation, worked with Chris Clause, Ray Drake, and John Arellin, Vocational Rehabilitation, and Jackie Allenbrand, Willard Downs, and Karen Funkenbusch, AgrAbility staff, to facilitate this training workshop. more
On- and off-campus University of Missouri AgrAbility staff participated in many AgrAbility activities. more
Nebraska
Teaching farm safety to kids continued, as Anna Lewandowski, OT graduate student with Nebraska AgrAbility, presented "Stretch B4 U Go!" at the Adams County Safety Day. more
In a train-the-trainer session, Anna Lewandowski presented information and resources on "Preventing Musculoskeletal Disorders" at the Nebraska Extension Fall Conference. more
Safety Day coordinators from Nebraska, Iowa, Colorado, Kansas and Wyoming met for training sessions in Hastings, Nebraska, in mid-October. more
Franklin County Health Fair drew about 200 people for health screenings and information. more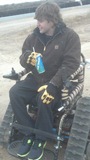 An occupational therapy student from Creighton University visited Nebraska AgrAbility offices to learn more about the project and participate in a client visit. more
Nebraska AgrAbility is exploring the feasibility of placing a Trac-Chair with a client for use in a feedlot/dairy heifer operation.
Ohio
Ohio AgrAbility continues working with four established farming programs specializing in autistic participants. more
Tennessee
"The ride in the golf cart was wonderful!" said B.J. Harper on the day her husband Johnny received his golf cart with the help of the Tennessee AgrAbility program, Madison County Farm Bureau, and Young Farmers and Ranchers. more
Texas
Texas AgrAbility had two sessions of an agriculture for veterans workshop in November. more
Vermont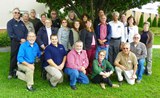 Gail Lapierre, Tom Younkman, Bill Snow, and George Cook with Vermont AgrAbility joined others from around the east coast for an AgrAbility regional mini-conference in Lancaster, Pennsylvania in October. more
Tom Younkman also attended the 24th annual Vermont Brain Injury Conference in Burlington, October 9.
Wyoming
Wyoming AgrAbility staffed a table at the 2012 AgriFuture conference held October 16-18 in Laramie. more
Wyoming AgrAbility staff had a booth at the 2012 MEGA Conference held October 4-5 in Cheyenne. more
Wyoming AgrAbility Project Director Randy Weigel has an article in the Fall 2012 edition of Barnyards & Backyards: Rural Living in Wyoming, titled "Update Your Home for a Lifetime of Living."
Wyoming AgrAbility had an article published in the Wyoming Livestock Roundup which was distributed September 29, 2012. more
Staff Changes
Wyoming
Randy Weigel, Wyoming AgrAbility project director, is the 2012 recipient of the Career Achievement Award from the National Family Life Specialists' Awards Committee. Congratulations, Randy! more
AgrAbility in the News
Click here for news stories featuring AgrAbility projects.
Purdue Gets 4-Year National AgrAbility Project Grant From USDA
A Veteran Serves his Country Through Farming
Studies Find Respiratory Health of Farmers Major Concern
A New Hope: AgrAbility
Missouri Program Trains Rescue Dogs to Help Disabled Farmers
East Texas Farmer Trades Wheelchair for Tractor
Workshop to Cover Ag Employment, Entrepreneurship for Veterans
Competition Challenges Groups to Improve Accessibility for Disabled
Program Aids Disabled Farmers
Other News
Click here for other news of interest to AgrAbility staff members.
One Stop Shop for Disability Work Tools
Guy Uses Thought-Controlled Bionic Leg to Climb 103 Story Chicago Skyscraper
Upcoming Events
Click here for professional development events related to AgrAbility.
Problems? Contact Clifford Racz, National AgrAbility Project, racz@purdue.edu