July 2013
West Virginia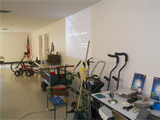 In June, WV AgrAbility conducted an AgrAbility and Assistive Technology training class for the Future Generations Computer Lab and Veteran Help Center in Rock Cave, WV. This training class demonstrated how using assistive technology is effective for individuals with disabilities in various settings such as agricultural enterprise, home, and recreation. The Assistive Technology Mobile Lab was set up so participants could have hands-on experience with the various technologies being discussed.
---
WV AgrAbility assisted with several Farm Safety Day Camps throughout the state. At these events, Inetta Fluharty discussed disability awareness and farming with a disability. She demonstrated how various assistive technologies could assist a person with a disability to live, work, and play independently.
---
WV AgrAbility staff attended the ISASH Conference in Sandusky, Ohio. The 2013 ISASH conference offered an opportunity for conference participants to receive professional development in the areas of safety and health services for the agricultural community as well as sharing information about research and intervention programs, networking, and other supportive activities.
---
During the Programs of Excellence Poster Session, Tom Stockdale presented on the topic of Youth Safe Farms. This was a pilot program that was implemented in selected counties to engage farm youth and their families in recognizing safety hazards on their family farm and then working together to find solutions to eliminate them and learn how to avoid future safety hazards.
---
The 2013 RESNA conference was attended by Inetta Fluharty who participated in sessions on various assistive technologies and received continuing education units toward her Assistive Technology Professional Recertification. Inetta also co-presented a session with Steve Swain, Sandra Stevenson, and Dan Stores on Farm Worksite Accommodations and Financing Challenges in Four AgrAbility States.
Submitted by Amanda Fulk