October 2013
Nebraska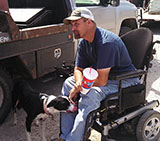 Nebraska AgrAbility staff and peer volunteers promoted Nebraska AgrAbility during Husker Harvest Days, a three-day premier farm and ranch show near Grand Island, Nebraska. Special guest for the event was Jackie Allenbrand, owner of P.H.A.R.M. Dogs, who visited with show-goers about the success stories and possibilities for using dogs trained to assist with farm and ranch chores. Several thousand attendees visited the Nebraska Farmer Hospitality Tent where the exhibit was staffed.
---
"Creak, Crack, Groan, Moan: Kids Get Arthritis, Too!" was presented to nearly 150 youngsters at the Farm Safety Day in Bladen, NE. Sharry Nielsen used the lesson she adapted from the national Arthritis Foundation to teach kids about stress on joints and ways to prevent arthritis symptoms, such as healthy eating, proper lifting, and limiting joint stress. She also included the importance of stretching each day to improve muscle strength and flexibility.
---
September is a month of safety days in Nebraska. Sharry Nielsen, Extension educator, participated in four safety events. In Minden, Franklin, Ravenna, and Bladen, NE, over 680 students learned safety measures and preventive tips when around or using machinery, animals, grain, chemicals, and ATVs. Also included were several sessions on roadway safety.
Submitted by Sharry Nielsen