November 2013
North Carolina
NC AgrAbility hosted the Eastern Fall AgrAbility Farmer Lunch on October 4 in Greenville, NC. Current AgrAbility farmers and other farmers interested and their friends and family were invited to come together for an informal lunch and learn session. The lunch also serves as an opportunity to meet each other in similar geographic areas and share stories. The guest speaker of the day was Gloria Jinks with the NC Assistive Technology Project Greenville office, who presented a display of various simple assistive devices and tools. The next Eastern Farmer Lunch will be held in January.
---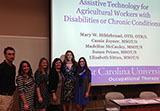 NC AgrAbility team member Dr. Mary Hildebrand of East Carolina University's Occupational Therapy Department and five M.S. OT students presented a 1.5 hour educational session at the NCOTA 2013 Fall Conference "Advancing Occupational Therapy" in Raleigh, NC. Dr. Hildebrand and students presented "Assistive Technology for Agricultural Workers with Disabilities or Chronic Conditions" and demonstrated various assistive tools from their tool kit. The session included a variety of assistive options from everyday hand tools, stools and carts, to helpful apps and precision agriculture equipment. Information about NC AgrAbility and the National AgrAbility Project was included.
---
NC AgrAbility was invited by the NC State University College of Agriculture and Life Sciences to join them in a booth called "Agriculture of Today" at the 2013 North Carolina State Fair in Raleigh, NC. The fair ran from October 16-27. NC AgrAbility had several of their NCSU biological and agricultural engineering student projects on display including the Garden Scooter and the 4x4 Wheelchair. Project Coordinator Michele Proctor and advisory board member Brian Parrish welcomed several new farmers and were glad to catch up with current clients at the fair while educating the public on the impact of farming with disabilities and ways of overcoming barriers. The booth was featured on the NCSU CALS website.
---
NC AgrAbility published several articles this month as well as releasing CD and printed copies of disability-specific Toolbox packages. Much of the content is from the National AgrAbility Toolbox or other AgrAbility sources. The two packets released are "Tractor, Equipment, and Other Vehicle Lifts for Farming and Gardening with Disabilities" and "Adaptations and Products for Farming and Gardening with Upper Extremity Limitations." All original sources are credited with corresponding products. The packets also include the NC AgrAbility Quick Hitch Quick Look Reference Guide, Electric Jib Crane, AT Toolkit: Everyday Tools for Working Smarter, Not Harder, and NC Resource Directories. These are available online here.
Submitted by Michele Proctor