February 2014
Maine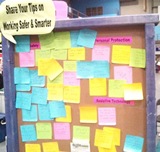 Maine AgrAbility staff spent three days in January at the 2014 Agricultural Trades Show in Augusta. The booth was staffed by non-profit partners as well as the Advisory Council members and AgrAbility farmers who were on-hand to share their stories.
The theme of the booth was "Share Your Tips on Working Safer & Smarter," and staff created a Pinterest board of helpful ideas and tips on different agricultural and H&S topics. Compilation of results will be posted on the Maine AgrAbility website soon.
Maine AgrAbility was lucky to have Ron Jester from the Mid-Atlantic AgrAbility group at the Ag Trade show; he shared information from the Northeast Center of Agricultural Safety and Health.
Submitted by Lani Carlson