September 2014
Maine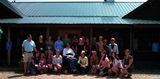 Maine AgrAbility Staff worked with the Maine 4-H Foundation and Grab The Torch (GTT) Institute in hosting about 20 high school girls at Pietree Orchard. GTT gives students a dynamic and unique understanding of leadership, ethics, and service that is tailored to the local philanthropic organizations and opportunities. Staff shared their passion for agriculture, the value of Maine farmers, and the mission of the AgrAbility program.
---
WABI (TV-Channel 5) reported on the Maine AgrAbility program. The report focused on a farmer in Winterport who was helped by the program. Richard Brzozowski, project director of Maine AgrAbility and small ruminant and poultry specialist with U. Maine Extension, told WABI "You don't look at the disability part. You think of what they can do; the ability part."

---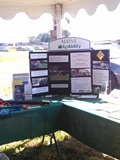 Staff participated at the Maine Farm Days event in Clinton. Staff surveyed the farmers and gardeners about their physical and mental limitations, and asked them to identify difficult and dangerous tasks they perform in their agricultural work. Staff also shared information about the program directly with Maine Governor Paul LePage and Maine Senator Susan Collins.
Submitted by Lani Carlson