September 2014
Minnesota
August, with its numerous county fairs and the Minnesota State Fair, was a busy month for the Minnesota AgrAbility Project staff. These events gave AgrAbility staff the opportunity to visit with farmers and vendors about the AgrAbility Project and the impact it has had on farmers across the country.
---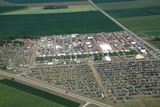 Minnesota AgrAbility Project staff had the opportunity to attend Farmfest 2014, held August 5-7, at Gilfillan Estate in Redwood County, Minnesota. Farmfest is in its 33rd year, and continues to be the essential farm show in the heart of the best agricultural land in America. Farmfest is considered to be the 3rd largest Farm Show in the nation.
Farmfest connects 35,000+ attendees with close to 600 local and leading companies for three days of educational and political forums, field demonstrations featuring the latest technological advances in the farming industry, a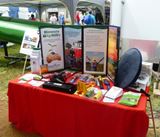 nd networking.
The 3 day show was a big success with the weather cooperating for the entire event. Information about AgrAbility was handed out and many new contacts were made at the Minnesota AgrAbility booth. The MN AgrAbility staff are looking forward to Farmfest 2015, to be held August 4-6.
Submitted by Dan Stores