Month 2014
National AgrAbility Project
Join the Farmer Veteran Coalition at the National Farmer Veteran Stakeholders Conference November 14-15 in Des Moines, Iowa for networking, peer-to-peer learning, and to shape a strategy for long-term collaborations.
Farmer Veteran Coalition is organizing the first national forum on programs for veterans pursuing careers related to food and agriculture. The conference will bring together veteran-serving and farmer-serving organizations to share lessons learned and explore new partnerships. All stakeholders from the agricultural and veteran communities are invited: non-profits, businesses, philanthropists, government agencies, trade associations, and educators.
Speakers will represent local, state and national non-profits and trade associations, local, state and federal government programs, agricultural employers, civic leaders, farmer-veterans, entrepreneurs, and others. Sessions will address successful models, lessons learned, and difficult questions related to coordinating programs and services.
The registration fee is only $125 by Oct. 15 – $150 after Oct. 15. Visit http://iowafarmerveteran.org/farmer-veteran-national-stakeholder-conference/ to register and for more information.
---
Several sessions have already been scheduled for the AgrAbility Virtual NTW. They include:
Dec. 2: 11:00 a.m. EST. Deborah Reed, "Aging and Farmers: Understanding "Normal" and Adapting to Changes"
Dec. 2: 3:00 p.m.. EST. Aida Balsano, "Updates from NIFA"
Date TBD: Carla Wilhite, "Tractor Seating Issues for Farmers/Ranchers with Disabilities"
Date TBD: Jerry Shafer, "Marketing Strategies for AgrAbility Projects"
---
Plans are under way for the 2015
National Training Workshop! The NTW will be held at the Hyatt Regency in Rochester, New York April 13-16. Watch your email for farmer/rancher travel stipend applications, sponsor and vendor forms, and requests for proposals. Contact Kylie Hendress at khendres@purdue.edu with any questions.
Submitted by Kylie Hendress
---
An AgrAbility Regional Training Workshop was held in Fort Collins, CO at CSU's Agricultural Research Development and Education Center on Sept.30 and Oct. 1st. There were 41 in attendance from 10 different states. Topics included FSA, Permaculture Farming for Persons with Disabilities, Business Plans for Farmers, Action Track Chair, Veterans to Farmers Program, Niche Farming, CSU's Growing Farmer's Program, Women and Ranching, and Farm Assessment. Participants also toured the Budweiser plant and CSU's Veterinary Hospital. Lots of good information and ideas were shared by all.
Another AgrAbility Regional Training Workshop is scheduled for late summer/early fall of 2015. Please let Tess McKeel tmckeel@abvi-goodwill.com know if you are interested in helping host such an event.
---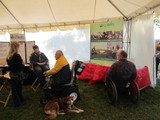 The National AgrAbility Project joined Ohio AgrAbility at the Ohio Farm Science Review September 16-18 in London, Ohio. Ohio AgrAbility and National AgrAbility shared a tent with Life Essentials, Standing Company, Disability Work Tools, K & M Manufacturing, Action Track Chair, and Mobility SVM. The show had a great turnout with a lot of visits to the tent.

Submitted by Kylie Hendress