October 2014
Nebraska
Rae Zabokrtsky, an occupational therapy graduate student from Creighton University in Omaha, began her semester rotation with the NE AgrAbility project in mid-August. Rae has worked with rehab specialists on client visits to better determine what a health professional can contribute to client assessments and solution options, and will help revise assessment forms if needed. Her educational topic, "Prevention and Management of Lower Back Pain and Injury", has resulted in one educational piece for consumers, a display, and a lesson for youth. We welcome her and all the work she has been doing.
---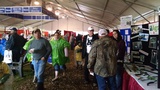 Husker Harvest Days - what a week!!! For the first time in memory, a whole day of the event was cancelled due to heavy rains and mud. Cold weather on Day 3 cut attendance by as much as half of the usual participation. However, four staff members and seven AgrAbility peers toughed it out to staff a booth and network at the two-day event. Jackie Allenbrand with P.H.A.R.M Dogs, USA, shared the booth and talked to event-goers about the successes she has seen with the dogs placed with AgrAbility clients. Rae Zabokrtsky setup and staffed a display on back pain prevention, distributing consumer brochures and the AgrAbility pamphlet, "Back in the Saddle".
---
Rae Zabokrtsky taught youngsters ways they can start now to prevent back pain and injury as they grow older. Using a relay race and "what's wrong here" pictures, she was able to teach proper lifting, stretching before work, and other ways kids can keep their backs pain-free. About 83 youth and 4 adults took part in the Progressive Ag Safety Day in Franklin, NE.
---
The "Temporary Equipment Program" continues to provide needed items to farmers and ranchers on a short-term basis, either because they have a temporary disability or a delay in acquiring permanent assistive technology. Two lifts and ramping have been placed throughout the last two years, usually going directly from one client to another with just a check-up between. Currently both lifts are with clients with chronic conditions who are looking at options for permanent solutions, and the ramp is with a stroke victim who is determining permanent modification needs for his facility. Rehab specialists Rod Peterson and Del Ficke have been instrumental in keeping the equipment where it is needed most.
Submitted by Sharry Nielsen