October 2014
Ohio
Ohio AgrAbility Program staff, along with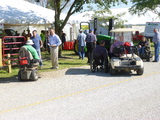 NAP staff Kylie Hendress and Cindy Chastain, participated in the 2014 Farm Science Review, September 16-18. Attendance at the three-day event was over 131,000, including farmers from Ohio and surrounding states. The OAP display area included information and resources from both the Ohio AgrAbility and National AgrAbility programs.

This year's display highlighted AT products designed and built as a class project by University of Dayton first year engineering students. Also on display were lighting and seat displays from K&M Manufacturing, wheelchairs from The Standing Company, a gate opener from Bump N' Drive, three mobility lifts from Life Essentials, a wheelchair-accessible truck from Mobility SVM & M.C. Mobility Systems, and track wheelchairs from Action TrackChair. OAP sponsored an accessible shuttle service from the display area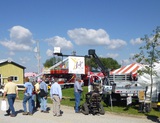 to the field demonstrations and a scooter/chair charging station for participants needing a re-charge. Two peer-to-peer meetings were organized for clients attending the show. Foot traffic through our display area brought approximately 1,450 visitors, and a separate universal design home and garage display had 1,344 visitors go through it.
---
OAP participated in Miami County Farm Bureau's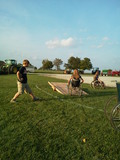 "Movie on the Farm Night" on Saturday September 20. Over 250 people attended the event, which had livestock, new and old equipment, and safety displays. The Miami Cattlemen's Association offered food. OAP member Bill Wilkins staffed the OAP display and also coordinated a wheelchair obstacle course for attendees to try. About three-fourths of the course was on grass and the balance on a gravel parking lot. In the grass area were three obstacles for the participants to maneuverer over representing uneven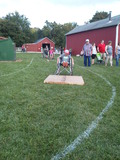 ground, cracked and uneven sidewalks or pavement with potholes, a transition from street to sidewalk levels without a curb cut, and a tilting ramp to simulate going up or down in a chair. The last part and obstacle was to maneuverer from the grass through a build-up of a gravel berm into the gravel parking lot. The course was busy from 5:00 p.m. when it opened with four wheelchairs until they had to put the chairs away at dark for the movie.
Submitted by Andy Bauer