November 2014
Missouri
Missouri staff members conducted five diverse and unique AgrAbility trainings this month:
* The first training was an AgrAbility in-service offered to 25 BJC Health Systems rehabilitation professionals (OT, COTA/L, OTAS, PT, PTA, IP Supervisor, and Social Worker) at Boone Hospital Center in Columbia, MO. Cayla Viers, COTA/L, of inpatient rehabilitation at Boone Hospital Center, moderated the in-service. AgrAbility staff provided rehabilitation professionals information about services offered by AgrAbility, clients served, referral process, and the safe placement of assistive technologies in an agricultural setting. Boone Hospital rehabilitation employees received credit for class attendance.
* The Arthritis Foundation - Mid-Atlantic Region, in partnership with the NC AgrAbility Partnership and North Carolina Agromedicine Institute, offered the Let's Talk About Arthritis - Hablemos Sobre Artritis workshop in Charlotte, North Carolina. NC AgrAbility project coordinator Michele Proctor and Missouri AgrAbility's Karen Funkenbusch co-presented the tailor-made NC training for health outreach professionals to educate farmworkers on Arthritis. It was a great two days of education and networking. This workshop was made possible by a safety grant from the Agricultural Safety and Health Council of America.
* "Unique Needs and How to Help Military Personnel and Families Navigate the Community Provider System" was presented to over 250 health care professionals at the Brain Injury Association of Missouri (BIA-MO) 10th Annual Statewide Conference. Presenters included Jon Sabala, Veterans Services Director, MO Department of Mental Health; Karen Funkenbusch, Missouri AgrAbility Project; Meghan Leach, Polytrauma Social Worker, VA St. Louis Healthcare System; David McArthur II, US Marine Corps, retired; Jay Mendell, Vocational Rehabilitation Services Supervisor, VA St. Louis Healthcare System; Jamie Talken, Outreach Specialist, Missouri Veterans Commission presented The BIA-MO 10th Annual Statewide Conference featured national and local experts sharing current research, cutting-edge therapeutic strategies, and best practice treatment. This is the only conference in Missouri established specially to address issues related to brain injury. In addition, this conference is the premier educational opportunity for healthcare, rehabilitation, vocational, residential, and community support professionals. Participants gained knowledge and further developed skills in caring for individuals who have sustained a brain injury. Partial funding for the BIA-MO Annual Statewide Conference was made possible by funds from the USDA National Institute of Food and Agriculture (NIFA) under Sponsor Project Number 2014-41590-22323.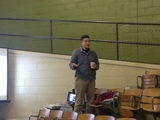 * Karen Funkenbusch, Missouri AgrAbility Project, Ann Robinson, Midwest regional office director National Center Appropriate Technology (NCAT-ATTRA), MO USDA FSA, and two Missouri beginner farmer veterans presented a three-hour seminar, Armed to Farm, on "Veterans transitioning to agriculture from military service" at the 22nd National Small Farm Trade Show & Conference. Participants received the Beginner Farmer/Rancher MO AgrAbility Veteran Toolbox. The National Small Farm Trade Show & Conference is the largest annual small farm show in the United States. Attendees are offered seminars, three-hour short courses, talks, demonstrations, exhibitions, and association meetings. This workshop was made possible by NCAT-ATTRA and funds from the Center for Rural Affairs.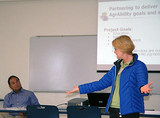 * The University of Missouri Extension and its AgrAbility partners from Lincoln University Cooperative Extension's Innovative Small Farmers Outreach Program, and the Brain Injury Association of Missouri conducted Missouri's first AgrAbility training workshop. LU Cooperative Extension small farm specialists, small farm outreach workers, and state extension faculty members, MU Extension regional specialists, MU Extension media communications, vocational rehabilitation professionals, social service case managers, veterans, and AgrAbility clients gathered at George Washington Carver Farm at Lincoln University. It was a great two days where 40 professionals learned about AgrAbility services; ways in which to network with partners and collaborating agencies; marketing strategies; and how to conduct onsite farmstead assessments, facilitated by Steve Swain from the National AgrAbility Project. Willard Downs, MU Extension and K.B. Paul, LU Cooperative Extension, co-facilitated the two-day workshop. The AgrAbility workshop was made possible by funds from the USDA National Institute of Food and Agriculture (NIFA) under Sponsor Project Number 2014-41590-22323.
---
Nearly 150 survivors of brain injury, family members and professionals became aware of AgrAbility at the Brain Injury Association of Missouri Survivor and Family Seminar – Eastern Missouri that was held on October 18, 2014. The BIA-MO exhibit included AgrAbility information and packets as well as conversations. AgrAbility clients and staff members were honored with several awards presented by Maureen Cunningham at the BIA-MO 10th Annual Statewide Conference Awards Luncheon and Annual Meeting.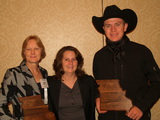 * Zane Volkmann received the "Courage Award". Zane is a college sophomore, a horse trainer and farrier. He suffered a brain injury and broken back in a horseback riding accident during his senior year of high school. Hard work, courage and faith kept him in the saddle and took him on the ride of his life as he graduated from high school and built a horse training business. He credits AgrAbility and Brain Injury Association of Missouri programs with helping him to have the courage and a plan for a successful life, despite continued challenges. He is a strong advocate for helmet protection while horseback riding. He has spread the word about AgrAbility through interviews for radio, newspapers and magazines, including AQHA, Mules and More, Brownfield Network, and many more. He also has been invited to visit with Missouri Governor Jay Nixon to talk about helmet safety and attended the Missouri State Fair to talk about safety at the Governor's Breakfast and at the farm safety booth. Stories about Volkmann's promotion of helmet safety and the AgrAbility program can be seen at:
http://www.umsystem.edu/stories/ride_of_his_life http://agebb.missouri.edu/news/ext/showall.asp?story_num=6894&iln=173http://agebb.missouri.edu/news/queries/showall.idc?story_num=6787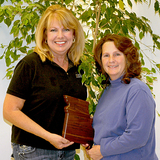 * Karen Funkenbusch, Director Missouri AgrAbility Project, and Linda Geist, Extension Communications Senior Information Specialist, received the "Service Excellence Award - Public Relations" for their efforts to generate exceptional press coverage to increase awareness about brain injuries, the prevention of secondary injuries, the Missouri AgrAbility Project, and the Brain Injury Association. We are a great partnership!
* Karen Funkenbusch also received the Epsilon Sigma Phi "Outstanding State Extension Faculty" award for her statewide leadership for the Missouri AgrAbility Project.
---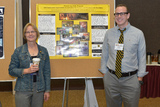 Joseph Brajdich, intern with the Missouri AgrAbility Project, presented during the Poster Session at the 2014 MU Extension Program Conference. It was an exciting session attended by more than 500 conference participants who gained a breadth of knowledge across MU Extension's program areas. During the poster session, his poster titled Missouri AgrAbility Program: Self-employment opportunities in agriculture for farmers and ranchers with disabilities was judged and selected to be presented during the upcoming Extension Connection: Lunch with us! "Broaden your research Impact with an Extension Connection" on November 17th, 2014.
---
Maureen Cunningham, executive director for the Brain Injury Association of Missouri, attended the support group in Cape Girardeau, Missouri to share information about AgrAbility. Survivors of brain injury and family members were interested in the AgrAbility opportunity for vegetable gardening to become an agricultural business.
Submitted by Karen Funkenbusch, Maureen Cunningham, and Willard Downs