November 2014
National AgrAbility Project
NTW Updates

* The NAP is currently accepting proposals for session presentations, unconferencing sessions, and posters for the 2015 National Training Workshop in Rochester, New York. Please send your proposal to Kylie Hendress (khendres@purdue.edu) by January 16. Also, remember to forward the request along to anyone you think might be interested in presenting at the conference.

* NTW farmer/rancher travel stipend applications have been sent out to all of the SRAPs and previous NTW travel stipend recipients. Applications are also posted on the NTW website at http://agrability.org/ntw/scholarships.html. Applications are due by January 31. Contact Kylie Hendress at khendres@purdue.edu for more information.

* The 2015 National Training Workshop website is live. Visit http://agrability.org/ntw/ for conference information and details. Contact Kylie Hendress at khendres@purdue.edu with any questions.

* Goodwill of the Finger Lakes is looking forward to the NTW in New York and has some interesting facts about New York agriculture.

Many think of "The City" when it comes to New York; however, beyond the NYC limits, 7 million acres are used by 36,000 farms to produce a variety of food products.

Milk is New York's leading agricultural product, accounting for one-half of the $5.7 billion in total agricultural receipts. As the nation's 4th largest dairy producer, New York also has a need to feed those cows, and is 3rd in corn silage production.

New York is second to Vermont in maple syrup production, and to Washington in apple growing.

This is the season for celebrating the #1 spot in the nation for pumpkin and cabbage production and 2nd in squash production.

Coming in behind California and Washington, New York ranks 3rd in grape production, and New York wineries make great use of those grapes!

We look forward to sharing New York with you and all of the NTW participants. Check here monthly for more New York information and making your visit a great one! See you in Rochester in April!
Submitted by Kylie Hendress and JoBeth Rath
---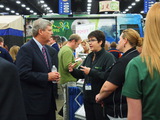 Secretary of Agriculture Tom Vilsack learned more about AgrAbility through a stop at the NAP's National FFA Convention display. Secretary Vilsack, along with Kent Scheske of National FFA and several other USDA staffers, stopped by the NAP booth and visited with our team. Additionally, Cindy Chastain visited with Major General Allen Batschelet, the commanding general of the US Army Recruiting Command and Kelley Mustion, the education coordinator for the Army Marketing and Research Group. Major General Batschelet is interested in the work AgrAbility is doing and has offered his support through his staff.

The NAP staffed the display on October 29-31. The National FFA Convention attracts approximately 60,000 FFA members from all over the U.S. The display included a John Deere tractor with a Life Essentials lift, the NAP display, NAP publications, and a farm/grain safety display. A special thanks goes out to Life Essentials for helping the NAP staff man the booth during this very busy convention.
---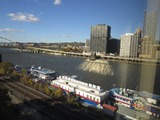 Chuck Baldwin represented the NAP at the 2014 East Coast Migrant Stream Forum, held in Pittsburgh, PA, October 23-25. He was glad to meet PA AgrAbility's project manager, Dr. Erica Bobbitt, and had some great conversations with many new contacts; among them Lisa Davis and Jim Harvey of the PA Office of Rural Health. Chuck enjoyed the people at the conference (and the view from his hotel room).
One tactic that seemed to bring appreciation from several of the community health center attendees was to share with them that while they (community health centers) treat the immediate needs of the migrant and seasonal ag workers they see, too often they tell their patients with disabilities that they need to start thinking of another line of work. They have a possibility instead to tell them that they can contact AgrAbility and AgrAbility will help them to keep farming as long as they possibly can. That's a win-win for everyone involved!
Submitted by Chuck Baldwin