November 2014
North Carolina
The Arthritis Foundation - Mid-Atlantic Region, in partnership with the NC AgrAbility Partnership and North Carolina Agromedicine Institute, would like to thank everyone who joined us for the Let's Talk About Arthritis - Hablemos Sobre Artritis workshop on October 7th and 8th, 2014 in Charlotte, North Carolina. NC AgrAbility project coordinator Michele Proctor and Missouri AgrAbility's Karen Funkenbusch co-presented the tailored-for-NC training for health outreach professionals to educate farmworkers on Arthritis. This workshop was made possible by a safety grant from the Agricultural Safety and Health Council of America. Additional trainings will continue in February 2015- Asheville and in Kenansville, NC. Registration will open in December/January for these events.
---
Michele Proctor along with project partner Mary Hildebrand of East Carolina Occupational Therapy presented an introductory continuing education session on AgrAbility and issues related to serving farmers with disabilities to 19 rehabilitation professionals at the Vidant Medical Center Rehabilitation Medicine on October 16, 2014. Attendees learned about AgrAbility services, how AgrAbility can assist them with clients in house as well as in the field and took part in making recommendations for hypothetical case studies.
---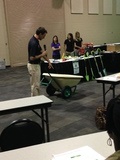 NC AgrAbility was once again part of the NC Rehabilitation Association/NC Assistive Technology Program G.R.E.A.T. Conference. In addition to a booth of adaptive tools, equipment and resources, Dr. Mary Hildebrand of ECU Occupational Therapy and her master's-level OT students presented a one-hour CEU session on adaptive technology for agriculture. Participants received a make-and-take kit of adaptive products that can be made or purchased for $3.00 or less, sponsored by Rowan County Farm Bureau. Dr. Hildebrand and her students were joined in their presentation session by Life Essentials' Bill Begley who shared more information with vocational rehabilitation professionals on Life Essentials' products and services. NC AgrAbility would like to thank Life Essentials for coming to the expo and for their help to increase awareness of needs in NC.
Also at the G.R.E.A.T. Conference, NC AgrAbility farmer Neil Whitfield and project coordinator Michele Proctor were part of a segment in a video produced by the NC Department of Health & Human Services entitled "An Accessible Life" showcasing individuals who used assistive devices in innovative ways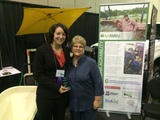 to maintain their independence and way of life. The video was unveiled at the award ceremony on October 23, 2014. Michele Proctor received the 2014 Stephen E. Sallee Assistive Technology Award of Excellence. Representatives from all four NC AgrAbility partners attended the conference on behalf of the project.

---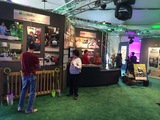 Wrapping up October, NC AgrAbility had another great showing at the 2014 NC State Fair. NC AgrAbility was again chosen by the NC State College of Agriculture and Life Sciences to be the feature attraction in the NC Department of Agriculture exhibit "Agriculture Today." The booth featured picture panels about the project as well as assistive devices for agriculture- both student designs as well as commercial options. The exhibit was open October 16-26, 2014. Special thanks go out to NCDA&CS and all the volunteers from NCSU CALS for making this event possible. Photos from these events and more are on the NC AgrAbility Facebook and Twitter pages.

Submitted by Michele Proctor