December 2014
California
CalAgrAbility attended its partner's webinar featuring VR services. Some of the Protection and Advocacy federal programs are: Developmental Disabilities (PADD), Individuals with Mental Illness (PAIMI), Individual Rights (PAIR), Voting Access (PAVA), Assistive Technology (PAAT), Traumatic Brain Injury (PATBI), Beneficiaries of Social Security (PABSS), and Client Assistance Program (CAP). More info with available fact sheets: disabilitybenefits101.com, passplan.com, disabilityrightsca.org
---
CalAgrAbility welcomes a new collaborator, Vets for Pets, the NorCal Chapter. In addition to providing a veteran with a healthy, neutered, microchipped, and trained dog, services include a welcome package with food, beds, crates, bowls, leashes, toys, and treats for the dog upon placement. Pets for Vets and the stories of veteran-dog matches have been featured nationally on NPR, CBS, CNN, PBS and AOL. http://tinyurl.com/mmnh7vx
---
CalAgrAbility collaborates with LensCrafters OneSight Program. This month three consumers in Chico, CA, received free eye exams and glasses. One of the recipients is a farmworker who works sorting almonds and had been struggling at work because her supervisor constantly noticed that she was not sorting out the clod and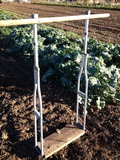 confused it with the almonds. Our client did not admit her disability due to fear of losing her job. She now has her glasses and has been working safely and fearlessly.
CalAgrAbility Staff conducted a site visit in Vacaville with a farmer diagnosed with tennis elbow. He started his 10-acre farm only 3 years ago and has made tremendous progress. He engineered his own sowing device - cleverly made from a pair of crutches! CalAgrAbility made a few recommendations for handles, faucet adaptors, a triangle shaped jar opener, and a motorized wheelbarrow. The consumer is eager to try these ATs!
---
CalAgrAbility staff led workshops on diabetes, focusing on Type 2, for the Northern Valley Indian Health Clinic in Willows and Woodland, CA. Vicki Shively, R.N. and Community Health Director, was surprised to find that many of the Native Americans who participated in the class have experience working in agriculture. Developing a chronic condition such as arthritis increases the risk of developing other conditions like diabetes. Twelve percent of CalAg consumers have diabetes.

Submitted by Maria Ceja