December 2014
North Carolina
Members of the NC AgrAbility direct services team participated in a conference call with professionals from other states involved in AgrAbility services and/or targeted projects with minority farmers with disabilities to strategize improved outreach and overcome barriers to services in coordination with NC Vocational Rehabilitation. Members in attendance included Michele Proctor - NC AgrAbility, Robin Tutor-Marcom - NC Agromedicine Institute, Ari Mwachofi - East Carolina University, Tammy Koger - NC Assistive Technology Program, Dr. Karen Funkenbusch - University of Missouri, and Steve Brink - NC Vocational Rehabilitation.
NC AgrAbility client Neil Whitfield hosted Dr. Mary Hildebrand and the 2015 class of ECU Masters of Occupational Therapy class for a farm assessment training in Pink Hill, NC. Mr. Whitfield shared his personal story, explained accommodations that help him continue to farm and live independently, and worked with students to complete a farm assessment exercise. NC Assistive Technology Program's Gloria Jinks and NC Agromedicine Institute's LaMar Grafft also attended the session to observe and assist in the exercise.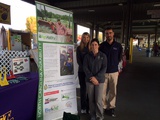 Dr. Mary Hildebrand and her team of MSOT students have been visiting NC farmers markets with educational displays and assistive tools to show to farmers as well as recruiting participation in several ongoing NC AgrAbility surveys. NC AgrAbility would like to thank Mary and her students for all their hard work and enduring some cold mornings on the road to make these appearances possible.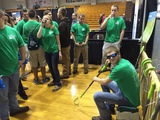 Despite a stormy start to the day, Michele Proctor, NC AgrAbility project coordinator, participated in the 2014 Beaufort County Ag Expo at Northside High School in Washington, NC. An estimated 600 students attended the Expo to learn about careers and services in agriculture in North Carolina. Students were able to interact with the NC AgrAbility display by trying out ergonomic gardening tools and other low-cost assistive devices for agriculture.

Submitted by Michele Proctor