December 2014
Tennessee
Tennessee AgrAbility had a very busy November! Tennessee Ag RUN Ability 5K Glo Run/1 mile Fun Run had a turnout of 37 runners/walkers on a very, very, very cold Tennessee November 1st. According to participants, that is a good number of runners for the first one. Now making plans for 2015! Sponsors for the run: The Andersons Inc.; Farm Credit Mid America; CO-OP; Roundup Ready Xtend Crop System (Monsanto); H&R Agri-Power; Tennessee Tractor; Helena Chemical, and Timex.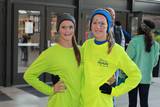 These young participants in the picture are showing off the adult and youth t-shirts for all participants. You can see in the picture their Glo dots provided by Gibson County FFA officers. Sigma Alpha provided volunteers to keep our runners/walkers on course. Even though it was cold, we all had FUN to help Tennessee Farmers with disabilities.
---
Since the Tennessee AgrAbility staff was at the state conference in Nashville, Murray State University OHSA graduate students took over the annual Calloway County Safety Expo for middle and high school students in KY. Tennessee AgrAbility staff trained these students to teach the hands-on disability awareness sessions. This was a three day event with 500 students participating.
Submitted by Joetta Turbeville White