January 2015
California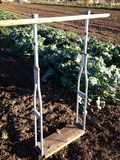 CalAg Staff conducted a site visit to a farm in Vacaville where the farmer was diagnosed with lateral epicondylitis or tennis elbow. As a "beginning" farmer, he started with 10-acre only three years ago and has made tremendous progress. He engineered his own sowing device cleverly made from a pair of crutches! CalAgrAbility made a few recommendations for handles, faucet adaptors, ergonomic jar openers, and a motorized wheelbarrow. The consumer is eager to try these ATs! (Note: this story is resubmitted due to inadvertent omissions by National Staff in the last edition).
---
To conduct more education and outreach to Central Valley farmers, CalAgrAbility staff initiated tele-meetings with Farm Bureau executive directors from the Sacramento, Yolo, Imperial, Fresno, Stanislaus, San Luis Obispo, and Monterey Counties to promote CalAgrAbility services. They will be publishing educational information about CalAgrAbility and AT services in their monthly publications.
---
Continuing its work on chronic diseases, the CalAgrAbility team "conferenced" with the Arthritis Foundation staff. They remain a main collaborator and contribute English and Spanish materials for CalAgrA consumers. They will assist the project in getting bilingual education to farmers and workers. CalAgrAbility staff also ordered English and Spanish calendars from the National Institute of Arthritis and Musculoskeletal and Skin Diseases for consumers. Agencies can order up to 200 free copies: http://tinyurl.com/ohbo4ac
---
Annual holiday greetings were sent to consumers acknowledging their extraordinary accomplishments in 2014 and CalAg's excitement about reconnecting with them in 2015. CalAgrAbility staff, as a tradition and expression of appreciation, sent out Season's Greetings to some 1000+ colleagues and collaborators as well.

Submitted by Maria Ceja