January 2015
National AgrAbility Project
Bill Field recently returned from discussing AgrAbility at an international symposium on assistive technology in India. The event was coordinated by Samuel Mathew, former NAP staff member and Purdue Ph.D. recipient, who is now executive director of NISH, the National Institute of Speech & Hearing in Thiruvananthapuram, India. Read more about Dr. Field's trip in The New Indian Express, and click here to watch him use AT to climb a coconut tree.
Submitted by Paul Jones
---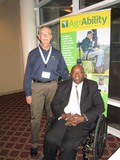 Chuck Baldwin presented an introductory session on AgrAbility and staffed an AgrAbility booth for the Professional Agricultural Workers Conference (PAWC) at Tuskegee University, Tuskegee, AL, in December. The PAWC is considered by many to be the premier conference for the 1890 land grant institutions as pertains to agriculture, and most of the 1890s were represented there.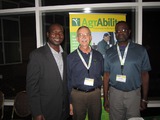 AgrAbility staff from other SRAPs and 1890s that attended the 2014 NTW were also present at the PAWC and Chuck had great visits with some of them from Texas, West Virginia, Alabama, and Florida. In addition, Michael O'Gorman and several veterans representing the NAP's partner, Farmer Veteran Coalition, presented some well-attended sessions in Tuskegee.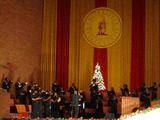 Among the conference highlights for Chuck were the Christmas concert by Tuskegee University's Golden Voices Choir,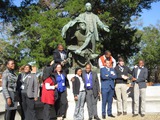 the international agriculture seminars featuring a group of visiting ag scholars from South Africa, and the culinary delicacies of the South's African-American cuisine. Like the great steaks they served up, this conference was definitely "well done"!
Submitted by Chuck Baldwin