February 2015
California
CalAgrAbility staff attended a promotores conference and health fair in the rural town of Woodland. Agency representatives and 60 participants were present. The majority of attendants were women. Workshop topics included nutrition, migrant legal rights, mental health, and health insurance. Oscar Velasquez, assemblyman for Yolo County, led encouraging presentations on the importance of community involvement. CalAgrAbility Staff networked with promotores, trusted leaders in the community, about the prevalence of arthritis in rural communities. Many mentioned they had arthritis or knew of someone with arthritis. CalAgrA Staff e-mailed Spanish and English flyers about arthritis and diabetes workshops to a promotora from the Woodland Adult Education School.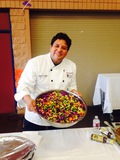 Renown Chef Vargas, advocate for health and nutrition, catered the event. Chef worked with UC Davis Master Gardeners and the Office of Education in Yolo County to develop health-conscious recipes. For example: this colorful salad he created with a diabetes group. This salad features nopales (cactus) and is as delicious as it is beautiful. CalAgrAbility received his permission to share this recipe in their Spanish and English diabetes workshops.
---
A wonderful fundraising campaign with the "United For Cause" Destination Imagination Team from San Ramon, CA, is taking place for a CalAg central valley farmer. The project is to help him and his family to continue farming and to obtain AT while he is recovering from a serious disability. In less than three weeks, the team of 8th graders and parents from Windemere Ranch Middle School coordinated a meeting and visited the family's farm. Parents, like the kids, are thrilled.
---
CalAgrAbility continues to raise awareness about fog in PSAs. California Central Valley fog, sometimes called Tule fog, is thick and has a blinding effect on drivers. This month, the fog took the lives of five farmworkers on their way to work. In an interview with ANR's senior public information representative, Alberto Hauffen, CalAgrAbility offered safety driving tips from Fog University, California Driver Handbook, De Anza College, the California Highway Patrol, Marc Green, Ph. D., and J.D. Power. Spanish media releases concerning fog are featured on the ANR site every winter season. http://ucanr.edu/sites/Spanish/Noticias/radio/?uid=6147&ds=199
---
CalAgrAbility continues to collaborate with a UC Davis student-led organization on campus, Mujeres Ayudando a la Raza (MAR). This year, in April, CalAgrAbility staff will lead a workshop on a newly developed presentation on diabetes at the Dixon Migrant Center. Diabetes is present in rural California communities. Twelve percent of CalAgrAbility consumers have diabetes. In an effort to have a conference where healthy eating is exemplified, CalAgrAbility prepared a letter of support for MAR so that Chef Vargas can cater the Dixon Migrant Center event.
---
CalAgrAbility Staff attended the Ergonomics Roundtable of Sacramento meeting with 75 engineers and ergonomists. Josh Kerst, CPE, CIE from Focal Upright, mentioned that the health focus in the ergonomic community is the fact that sitting is the "new smoking". Tractor operators not only have to endure sitting but also vibrations that can cause repetitive stress injuries to the back. The best thing one can do is to have multiple position changes throughout the day - ideally about 60 position changes per day! Most think of sitting and standing as the only postures. Presenters introduced a "third posture" which allows for a neutral spine, open hip angle, and gentle motion. They had multiple Mogo Portable "chairs" for attendees to try. You may really want to see this funky looking "chair" which they also called the "tractor chair" due to its resemblance with an old-fashioned tractor seat. Read more about the benefits of "third posture" seating: http://www.focaluprightfurniture.com/focal-standing-seat/.
---
CalAgrAbility partner, Ability Tools, featured the CalAgrAbility program in a webinar. This was only one of several presentations CalAgrAbility will lead for Ability Tools. The CalAgrA Team worked tirelessly with Rosemarie Punzalan to make the webinar shine. CalAgrAbility Staff invited participants to the next Ability Tools in-person training where CalAgrAbility Director Fadi Fathallah, will lead a presentation in his area of specialty, ergonomics.
Submitted by Maria Ceja