March 2015
California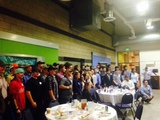 The CalAgrAbility Team cruised down south to the World Ag Expo in Tulare, CA, to speak at the American Society of Agricultural and Biological Engineers (ASABE) Meeting. ASABE was established over 100 years ago and has members in more than 100 countries. One hundred twenty members, faculty, staff, and students from Cal Poly, CSU Fresno, Butte College, CSU Bakersfield, UC Davis and other universities attended the meeting. When asked if they knew of someone with arthritis, over 90% raised their hand. CalAgrAbility shared that arthritis is a leading disability in AgrAbility consumers and covered solutions for ag workers with disabilities. They finished off the presentation with the AgrAbility It's About Hope video. Faculty from Cal Poly e-mailed the CalAgrAbility Team expressing gratitude for delivering a presentation to such a diverse group. After the meeting, ASABE President Carolyn Jones referred a farmer to CalAgrA.
---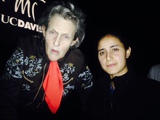 Doctor Temple Grandin spoke in CalAgrAbility's backyard, the Robert & Margrit Mondavi Center. CalAgrA staff chatted with her for a few minutes about farming with a disability. She emphasized that the key is to ask the farmer what he can and wants to do to develop a plan to attain his or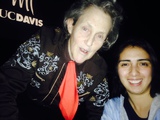 her goals. The UC Davis Book Project re-tweeted Dr. Temple Grandin's "selfies" with CalAgrAbility Staff. She was also interviewed by Beth Ruyak from Capital Public Radio: http://www.capradio.org/news/insight/2015/02/10/insight-021015/.
---
CalAgrAbility staff continue to lead arthritis exercise classes for special populations in rural Sacramento, Willows, and Woodland areas. An average of ten African American and Hispanic families attended each class. CalAgrAbility also celebrated African American History Month by distributing 2015 health calendars from the National Institute of Arthritis and Musculoskeletal and Skin Diseases at Imani Clinic. CalAgrAbility encourages thoughtful planning of daily activities, movement, and visits to the doctor to stay healthy.
---
CalAgrAbility Staff was at the 10th Annual Women's Heart Care Education & Awareness Forum for Community Leaders at UC Davis. One in three women currently dies of heart disease. Much of the burden is attributed to diet.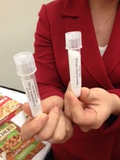 The picture shows two tubes, one with the daily-recommended amount of salt intake (1500mg) and one that shows how much salt is actually consumed on average by Americans (5500mg)! Hispanics and African Americans are at higher risk of developing heart disease. CalAgrA Staff plans to take the information from the conference to rural communities in California. Key take-home points from Dr. Amparo Villablanca: "It all begins with you and you modeling heart-healthy behaviors for your family, for your co-workers, for your children, for your parents, for your siblings, for those in your communities, for your neighbors and friends. Knowing that you are at risk; you're not immune. Knowing the risk factors. Knowing your numbers. Practicing prevention through heart-healthy lifestyles through physical activity and heart-healthy diet. Knowing the right warning signs and symptoms. And then knowing to do the right thing if you or someone you know is experiencing them by calling 9-11."
---
CalAgrAbility's director, Fadi Fathallah, steered an interesting presentation on his area of specialty, ergonomics, for CFLIC 15 staff at their Northern CA In-Person Regional Meeting. CFLIC funds CalAgrA partner Ability Tools. Their mission is to increase access and equal opportunity for people with disabilities by building the capacity of independent living centers. Dr. Fathallah addressed the potential for injury faced by agricultural workers in labor-intensive jobs. He showed a video of farmworkers on the job picking cilantro, wine grapes, oranges, and other vegetables while pointing out injuries workers can sustain from their tasks. CalAgrAbility provided folders for CFILC staff that included ergonomic resources like the Simple Solutions manual and The Toolbox CD.
---
CalAgrAbility continues to mass mail. This month, CalAgrA staff mass mailed, the first-of-its-kind CalAgrAbility News Alert, which is a page-long newsletter, for its 2000+ colleagues. Topics sent in this format will be highly varied to address research about disabilities faced by agricultural workers in California and/or opportunities they may have. The first News Alert was forwarded by the NCFH Migrant Health Research E-Group. This group is available to all migrant health professionals interested in dialoguing with their peers around migrant health issues, especially those that relate to advancing care for farmworkers and their families.
Submitted by Maria Ceja