March 2015
Missouri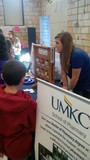 Kelly Cochran (PharmD, BCPS) and University of Missouri Kansas City (UMKC) student pharmacists educated over 500 teens and parents at the CHART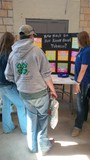 Teen Health Fair in Hannibal, MO. They taught how to prevent concussions and brain injury with materials from AgrAbility partner, the Brain Injury Association of Missouri. Five farm families were educated about the resources and services offered by Missouri AgrAbility Project and Pharm to Farm. Pharmacy students also reviewed the risks of smoking and prescription drug abuse and shared information about the career paths for teens interested in pharmacy. This event was publicized on local radio.
---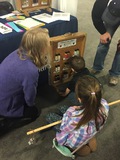 Kelly Cochran and UMKC student pharmacists provided health screenings and education at the National Western Farm Show in Kansas City, MO, at the American Royal Association. Through this event, potential AgrAbility clients were provided with AgrAbility brochures and connected to information about Pharm to Farm and Brain Injury Association of Missouri concussion prevention materials. In addition, Farm Show attendees received health screenings:
52 individuals were screened for diabetes (of which six were referred to a primary care physician for follow up)
51 individuals were screened for high blood pressure (of which three were referred to a primary care physician for follow up)
42 individuals were educated about immunizations
30 individuals were educated about heart burn prevention
49 individuals were educated about healthy nutrition/diet
50 adults, ten college aged, nine teens and 46 children were educated about prescription drug abuse/medication safety.
Submitted by Kelly Cochran