March 2015
National AgrAbility Project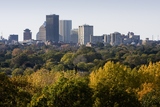 Earlybird registration closes Thursday, March 19. Make sure to register before the 19th to get a discount. Online registration will close on April 10. There will be no onsite registration. Click here for a list of the registration fees. You may register online or choose to print a pdf registration form from this site to mail in with your payment. If you have any questions about registration, contact Kylie Hendress at 765-494-6679 or Pam Walker-Stokes at 765-494-9482.
Submitted by Kylie Hendress
---
Amber Wolfe and Cindy Chastain participated in the 20th Midwest Women in Agriculture Conference, held in Merrillville, IN, Feb. 17-19. This conference is organized by Purdue University and was attended by nearly 200 women from six states. Amber Wolfe, AgrAbility partner from the Arthritis Foundation, serves as the conference facilities chair on the planning committee and also arranged the pre-conference tours to Fair Oaks Dairy. Amber and Cindy staffed an AgrAbility display table in addition to attending the full conference.
---
A second National Arthritis and Agriculture Conference is being planned for August 24-26 in Knoxville, TN. This event is occurring in partnership with a regional AgrAbility training presented by Goodwill of the Finger Lakes. This combined conference will hopefully draw in more attendees and will be a dynamic. There are still positions available on the planning committee. Contact Amber Wolfe at awolfe@arthritis.org or JoBeth Rath at jbrath@abvi-goodwill.com for more information.
Submitted by Amber Wolfe
---