March 2015
North Carolina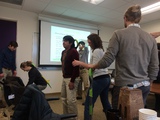 Thanks to everyone who participated in the February 20th western NC "Let's Talk About Arthritis/ Hablemos Sobre Artritis" workshop, hosted by Western Carolina University Department of Physical Therapy. Dr. John Carzoli and Dr. Karen Lunnen with their team of Masters of physical therapy students led the training, and participants engaged in learning exercises, stretches, and teaching methods for implementing the curriculum with farmworkers in the field. NC AgrAbility Project Coordinator Michele Proctor presented information on AgrAbility services and selecting appropriate tools and solutions for farmworkers with arthritis. This training was made possible through the Arthritis Foundation-Mid Atlantic and a 2014 Safety Grant from ASCHA.
---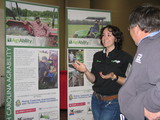 NC AgrAbility was once again at the 2015 NC Cattlemen's Association Conference at the Hickory Metro Center February 12-14. Thanks to all the "NC AgrAbility Project Groupies" for coming to the conference and to all the new contacts that were made. Livestock producers are at greater risk for injury due to the nature of their work, including raising cattle. This is always an important event for NC AgrAbility. Thanks to everyone who made this event possible. For details on the conference, visit www.nccattle.com.
---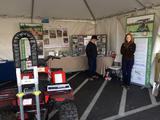 It was another chilly year at the 2015 Southern Farm Show! NC AgrAbility had new toys and tools to share with folks and a guest exhibit from its community partners from the NC Division of Services for the Blind. Thanks to everyone who came to check out what's new this year at the Farm Show. Follow NC AgrAbility on Twitter and Facebook for photos from this event and more! For a recap of events and information on next year's Show, visit https://southernshows.com/sfs.
Submitted by Michele Proctor