May 2015
California
Several CalAgrAbility farmers received assistance from ATs, including an air conditioner, glasses, and a "nut & fruit gatherer." CalAg and VR got an AC unit for a farmer with multiple sclerosis who works a lot in her farm office. She thanks CalAgrAbility: "I really appreciate your support and guidance on strategies to reduce fatigue and create ways for me to work despite multiple sclerosis." She will work comfortably this summer. A husband and wife from Butte County received free vision exams and glasses from LensCrafters. This helps them at home as well as on the grape and blueberry farms. An orchid/nut farmer with back pain borrowed a "nut & fruit gatherer" with flexible wires on a barrel-like head to harvest using a quick rolling motion. The tool allows her to pick up pecans from the ground without bending. She may buy one from one of many retail suppliers such as Lee Valley: http://www.leevalley.com/US/garden/page.aspx?p=55016&cat=2,2120,33277,55016.
---
CalAgrAbility's 76 year-old orchid farmer offers solutions for farming with wet macular degeneration (MD). She has two greenhouses and has been farming with MD for eight years. MD is an age-related disease that can affect the central vision. She states that, "The disease robs you of depth perception, and to some extent, color." Yet, she found solutions. Bright colors help her see better, so, rather than black zip ties, she uses colorful ones. "When I attached wire to posts to make trellises for growing, say cucumbers, I have to use colored zip ties." She also uses them to mark things she does not want to run into and she uses white plastic pipe and colored yarn to mark corners. For other vision solutions, CalAg referred her to our partner's, Ability Tools' Lending Library. The National Institute of Health has more information on macular degeneration and solutions at: https://www.nei.nih.gov/health/maculardegen/armd_facts
To follow up, staff conducted a site visit at the Orchid Show in Sacramento where she is active in the horticulture group and works avidly to teach community members about orchids, one of the fastest growing commodities in the US. The Orchid Society takes pictures of featured orchids of the month: http://sacramentoorchids.org/ootm-nov-2013/. Our USDA NRCS partner made the referral.
---
Each year,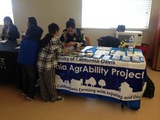 Migrant Centers open in the spring, welcoming dozens of migrant families, some of whom have been migrating for 20 years. CalAgrAbility attended events at Davis, Madison, and Dixon to conduct mini-health workshops on tractor safety, hearing, arthritis and diabetes in Spanish for over 100 families. Persons from social services and medical agencies i.e., migrant education and CommuniCare Clinics attended.
At the Davis Migrant Center, CalAg spoke to children and health professionals about the importance of roll-over protective bars (ROPS) to keep tractor drivers safe and children colored a tractor cartoon, "Roll over bars can keep us safe in the farm!" Afterward, CalAgrA showed a video simulating a tractor rolling over. To watch the video, click: https://m.youtube.com/watch?v=V8F-Y2w_3eo
At the Migrant Centers, men received handouts on hearing loss as many drive harvesters and tractors. Others learned to recognize heat illness and learned about emergency preparedness while working in remote areas. CalAg's publication "Why Should I Care About Hearing Loss?" was disseminated. Women were interested in arthritis services. Staff showed hand-strengthening exercises and gripping solutions, i.e., rubber grip pads and rubber bands to open cans, and using handles and levers. CalAgrAbility gained new consumers with osteoarthritis, bipolar disorder, and diabetes.
---
CalAgrAbility led the "Health is Wealth: Management of Diabetes" workshop for over 40 rural/migrant families at the Dixon Migrant Center and the Native American Health Clinic in Woodland who work and/or have worked in agriculture, packing and greenhouses, hoeing in fields, harvesting olives and/or driving tractors. The workshop included dancing exercises from CalAg's "Get Moving" arthritis class, and the "crumbled paper exercise," to strengthen forearms, wrists and grip (Berkeley Wellness Letter). Engaged participants asked questions and shared stories. Not all people with diabetes are overweight or obese. For nearly six years, diabetes went undiagnosed in one of the participants. His body entered ketoacidosis, a serious diabetes complication, causing him to lose over 30 lbs. in two weeks. At the close, participants enjoyed learning how to combine foods to help control/prevent diabetes. They walked away with a strong grasp on which body parts diabetes can affect as well as the symptoms for which they should look.
---
VR, CalAgrAbility and Ability Tools met to prepare for a collaborative webinar to promote how they can work together to enable farmers and farmworkers to achieve farming and living safely. CalAgrA partner, Ability Tools, also hosted "Staying in your Home: AT for Seniors," a webinar presented by our common collaborator Jeff Symons MSE, ATP, that is also to be archived. A total of 31 staff from California Independent Living Centers, among others, joined.
---
CalAgrAbility is collaborating with Community Medical Centers (CMC) and the Farm to Mouth Project in Yolo County. Staff met with a Community Health Educator at CMC serving San Joaquin, Yolo, and Solano Counties to co-lead diabetes workshops. CalAg will meet with the Farm to Mouth project, through Yolo Community Care Continuum (YCCC), a non-profit assisting people experiencing psychiatric disabilities. Two student volunteers from Chico State University interested in starting a project similar to the Farm to Mouth Program will also be there. Farm to mouth will talk about giving folks with mental illness a place to work in the garden. They recently added a greenhouse.
---
CalAgrAbility director, Fadi Fathallah, interviewed with Maureen Jerrett of The Northern California Center for Occupational and Environmental Health (COEH) Bridges, due out mid-June. Fadi is part of COEH, a multidisciplinary program of the University of California at Berkeley, Davis, and San Francisco, to promote workplace/community health and safety (http://coeh.berkeley.edu/bridges/about.html). The interview highlights CalAgrAbility, ergonomic solutions, i.e., the electric clippers, and how to make a lifting tool: http://www.cdc.gov/niosh/docs/2001-111/pdfs/2001-111.pdf.
---
Representatives of FREED (ILC) and the Arthritis Foundation contacted Martha C. Stiles, former director of CalAgrAbility and now a consultant. Martha referred the regional manager at the Central Coast Arthritis Foundation to staff to develop educational programs for arthritis prevention and management among agricultural workers. An Independent Living Center, FREED is part of the Sutter-Yuba Behavioral Health Board and has been a long-standing partner with CalAgrAbility. They shared information with the director of the Sutter-Yuba Mental Health Services about CalAg programs to assist farmers and workers with mental health disabilities. CalAgrAbility will meet with the Behavioral Health Board to discuss increased opportunities for outreach services to the agricultural community impacted by mental health disabilities.
---
CalAgrAbility thanks their AT Tools partner, Rosemarie Punzalan, for representing California at the 2015 NTW in New York. In a teleconference with CalAgrAbility, Rosemarie highlights NTW sessions, networking with NAP staff, and speaking with vendor representatives regarding farming equipment and loans. Ability Tools continues to distribute CalAgrAbility brochures to Independent Living Centers and others in California.
Submitted by Maria Ceja