June 2015
Michigan
Five members of the Michigan State University Alpha Gamma Rho (AGR) Fraternity held a work day at Linda Streeter's farm located in Michigan's Van Buren County. Streeter is an AgrAbility client who suffers from post-polio syndrome and its many complications.
Streeter was involved in the equine industry for many years. At stud on the farm is Hot Roddin' Zip, a registered Paint horse that has sired dozens of offspring that carried riders of all disciplines to the winners circle. Zip was the 2001 Junior National Western Pleasure Horse Champion. She also raises AKC registered non-allergenic Schnauzers and performs private grooming.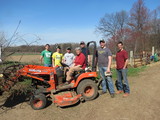 The AGR volunteers spent a large portion of a warm Friday in April trimming brush and trees, repairing fences and improving the accessibility around Streeter's horse farm, so she can more readily access her pens while using her wheelchair.
The day was documented with photos and videos. Check out Michigan AgrAbility's YouTube channel to see how one farmer was blessed by the help and five young men were blessed by giving help that day: https://www.youtube.com/watch?v=SOoi2w8NqwY&list=PLVvPW9G-alYifDSWxTtzi3oz8yPlPgAP8
Submitted by Deb Chester