July 2015
Indiana
Blue Yonder Organic Farm conducted a week-long training called Operation Groundwork for veterans interested in farming. On the first morning, Steve Swain and Cindy Chastain presented to 11 veterans information about AgrAbility, veteran resources, and vocational rehabilitation services. They then participated in a veteran farm tour at an AgrAbility client farm on Wednesday afternoon, shared examples of AT, and answered many questions from veterans.
---
Steve Swain, rural rehabilitation specialist with Indiana AgrAbility, along with Wade Wingler, director of the Indiana technology project INDATA, presented an Assistive Technology 101 session in Mitchell, Indiana at the Southern Indiana Center for Independent Living (SICIL). Mr. Swain presented on AgrAbility and AT for the lawn and garden, the farm, and the home. Mr. Wingler presented INDATA and their services along with AT for the home such as robots, augmented communication, and other home automation.
---
Indiana AgrAbility, Indiana FFA, and Dupont Pioneer sponsor the Bridging Horizons Community Service Contest. The contest challenges non-profit groups, including FFA chapters, 4-H clubs, junior leader groups, and extension groups, to complete projects in their communities that enhance independence and promote success for people with disabilities. There were seven entries this year, of which six were FFA chapters and the seventh a girl scout troop. Each entry was recognized and presented a certificate and a cash award (from non-USDA funds) at the 2015 Indiana FFA Convention. Each entry received $100, and the top project received an additional $500, second $250, and third $100. The winners were:
1st North Miami FFA Chapter
2nd Carroll Fort Wayne FFA Chapter
3rd Frontier FFA Chapter
---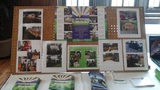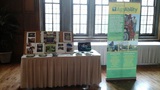 Indiana AgrAbility also participated in the FFA Showcase at the 2015 Indiana FFA Convention with a display showing the entries to the Bridging Horizons Community Service Contest. The showcase gave FFA convention attendees an opportunity to learn about the services offered by Indiana AgrAbility and project ideas for next year.
Submitted by Steve Swain