July 2015
Michigan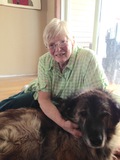 "It was harder to get rid of my goats than it was to get rid of my leg," said Lois Olson.
A farmer, veteran, and amputee, Olson recently penned a book entitled "A Leg to Stand On," published by Zondervan Publishing. Three copies of the book were recently sold in the silent auction during the National AgrAbility Training Workshop.
Olson became an amputee in 2009, losing her left leg at mid-thigh as the result of a post-surgery bone infection. A Vietnam era veteran of the Air Force, she spent more than 25 years as a premier breeder of Saanen goats. She achieved recognition within the breed organization for superior animals scored through linear evaluation, which was validated by wins in the show ring. Dairy Herd Improvement Association testing documented outstanding milk production expected from superior genetics. Many youngsters in the Upper Peninsula and Northern Lower Michigan received a running start with a 4H goat project from her flock, and each student's purchase was backed by Lois's encouragement and coaching.
According to Olson, the book has taken on a life of its own. Local book sales have become brisk since articles on her venture appeared in the Michigan Farm News published by Michigan Farm Bureau, and two northern Michigan newspapers near Olson's home. RFD TV has plans to feature Olson and her book on a segment of Market Day Report later this summer.
The book depicts an actual event that occurred on a farm where Olson volunteers. An indifferent, three-legged farm dog provides comfort and understanding to the author as she struggles in frustration to reach and reattach her prosthetic after tossing it aside to perform a task while seated on the ground. Ironically, the task was to repair a broken leg on a treasured 4H goat.
"Missing limbs have become a reality in our society," Olson said. "There is a greater purpose for the book---to have a story about people and animals with missing limbs. It's a book you can give to people that shows you can live life after amputation; sometimes it's just awkward."
"There is always someone to understand. This time it was the dog."
One goal is to have the book available as a resource to children of veterans who have lost limbs in the course of their service to country.
The book is available at www.amazon.com in both soft cover and Kindle versions. Search for the book by title and author name.
Though the first royalty check was for only 99 cents, the exhilaration of that first payment, validating her as a published author, ranks among Lois Olson's most memorable life events.
Submitted by Deb Chester. Article and photo: Lois Olson