July 2015
Missouri
Lincoln University Cooperative Extension staff members from the Innovative Small Farmers Outreach Program (ISFOP) collaboratively worked with the University of Missouri Extension AgrAbility staff and Brain Injury Association of Missouri to provide direct assistance with onsite farmstead assessments to small farmers and ranchers of Missouri, especially those who are socially disadvantaged, under-served, and/or beginning farmer veterans.
---
Missouri AgrAbility staff members conducted three diverse and unique AgrAbility trainings for veteran farmers:
On Saturday, June 6th, Dr. Nadia Navarrete-Tindall hosted an Organic Farming and Native Edible Specialty Crops Workshop for 24 veterans on the Lincoln campus in Jefferson City, Missouri. AgrAbility marketing materials were distributed to all participating Veterans.
On Saturday, June 13th and June 20th, the MU Extension organized two workshops where more than 20 veterans and their family members attended the Veterans to Farmers Workshop at the Ark in Waynesville, MO, with support from the Center for Rural Affairs, the North Central Risk Management Education Center, and Sustainable Ozarks Partnership. The first veteran workshop focused on farming as a business, with the second workshop discussing how to write a business plan. David Middleton from Lincoln University, partner to the Missouri AgrAbility Project, talked about his sustainable farming operation, Middleton Farm, in Mount Vernon. David shared information about how he sustainably raises cattle, hogs, sheep, and chickens as well as sells his meat and meat products to consumers at an on-farm store, at farmers markets, and on-line.

---
Kayla Funkenbusch, undergraduate intern with the Missouri AgrAbility Project, and Karen Funkenbusch co-presented three AgrAbility posters during the 2015 International Society for Agricultural Safety and Health (ISASH) conference, June 21 - 24 in Normal, IL. Poster titles included: AgrAbility Program Assists Missouri Farmers and Ranchers with Disabilities Realize Self-Employment Opportunities in Agriculture; Identifying Appropriate Adaptive Solutions for Migrant and Seasonal Farmworkers; and Missouri AgrAbility Project and Pharm to Farm Deliver Innovative Onsite Farmstead Medication Assessment for Farmers and Ranchers with Disabilities and Chronic Health Conditions.
Submitted by Karen Funkenbusch
---
Five Missouri AgrAbility Project farmers are scheduled for onsite farmstead medication assessments to be provided through Pharm to Farm, an initiative led by Kelly Cochran, PharmD, BCPS, and UMKC student pharmacists. Pharm to Farm health and safety outreach events are being planned for county fairs and field days throughout Missouri.
---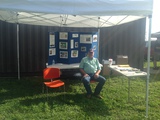 The University of Missouri, in collaboration with Lincoln University Cooperative Extension, and the Brain Injury Association of Missouri, was present on June 20, 2015, at the Andy Dalton Day at the Range and Outdoor Adventure Fair. This annual event took place in Bois D' Arc, Missouri, from 8:00 AM -2:00 PM, and focused on outdoor education and activities for individuals with disabilities. Members of Lincoln University's Innovative Small Farmer Outreach Program (ISFOP) were on site with an educational AgrAbility outreach booth. Among the various activities offered throughout the conservation area, outdoor shooting and fishing were the most popular with the crowds.
The AgrAbility booth was very well received and many individuals were eager to ask questions about the AgrAbility Program and to receive literature to disseminate among targeted populations. There were 12 contacts received from individuals who stopped by to ask questions. In addition, there were 10 individuals who picked up awareness materials from the AgrAbility display table without engaging in lengthy conversation.

---
Thanks to a great effort from Kayla Funkenbusch, AgrAbility intern, and Joseph Brajdich, farm worksite evaluator, coordinator, assistive technology services, MO AgrAbility now has "AgrAbility Kits." These will allow MO AgrAbility staff and their partners at Lincoln University Cooperative Extension to have a kit for on-the-go situations, conveniently packed into a carrying case. Inside the kit is everything one might need to make a great AgrAbility presentation, including information on services offered, pictorial examples of assistive technology, logos, and grant numbers, all available on durable cardboard pieces lined with Velcro for sticking onto a display board.
---
Joseph Brajdich participated in the webinar hosted by Georgia AgrAbility called "Assistive Technology Solutions to Reduce Slips, Trips, and Falls" that showcased low-tech solutions for farmers with disabilities. Joseph commented, "The thing that I found neat was that most of these solutions to very troubling problems can be found at local hardware stores for under $50! I look forward to sharing valuable information like this with AgrAbility clients. It gives me an educational opportunity to get closer to our clients and show them that we are always looking for ways to help them."
---
During the early part of 2015, MO AgrAbility staff worked with a wonderful beef farmer from east-central Missouri who has rheumatoid arthritis. AgrAbility staff helped him apply for Vocational Rehabilitation (VR) eligibility and recommended adapted and assistive devices. He promptly filled out his VR eligibility paperwork, sent it in, and became eligible in about one month! After learning that he was eligible for VR services and soon to receive equipment, he wrote the staff this heartwarming letter-
"I can't believe this is happening!! I'm rejuvenated by just the mere thought of knowing that this vehicle is on-the-way. Getting around on this farm over the past 10 years has, at times, been overwhelmingly exhausting. There are some days that I wake up with no juice in my joints - at least that's the way it feels. And those are always the days when a tree has fallen over a fence, or we have to work calves, or I have to stack hay, etc., etc.
I've struggled with the thought of having to exit this vocation (a vocation that I love) sooner than later. I'm encouraged to now think that it will be later - maybe much later!!
You two are absolutely wonderful. Words cannot express the gratitude that I have in my heart for the two of you and the AgrAbility program. Do know that God is working through you. Thanks, so very much, for being willing vessels.
If, and when, we meet next; you'll both need to prepare to be hugged by a very happy cattleman. May God richly bless you both."

Submitted by Joseph Brajdich