July 2015
National AgrAbility Project
Register now for the Arthritis, AgrAbility, and Rural Health Conference, August 24-27 in Knoxville, Tennessee. This 2nd national arthritis and agriculture conference is being planned in partnership with a regional AgrAbility training presented by Goodwill of the Finger Lakes. This combined conference will hopefully draw in more attendees and will be a dynamic event. Sponsorships are needed, and vendors are welcome! The conference will be held at the Downtown Hilton Knoxville. Proposals for speaking presentations are currently being accepted. All files related to the conference will be posted at http://arthritis-ag.org/national-conference/.The hotel block and registration site are already open.. Contact Amber Wolfe at awolfe@arthritis.org or JoBeth Rath at jbrath@abvi-goodwill.com for more information.
Submitted by Amber Wolfe
---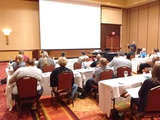 Chuck Baldwin, NAP's special populations outreach coordinator, attended the ISASH certificate training course on agricultural safety and health in Normal, IL, June 24-27. The purpose of the course was "to establish a core level of knowledge in the agricultural safety and health profession" (ISASH certificate course flyer). Open to everyone from rank beginners in agriculture to practicing safety and health professionals, the basic training covered a wide range of pertinent safety/health topics in the field of agriculture. Illnesses, injuries, and hazards were discussed, along with various approaches to hazard and risk management (both national and international), OSHA and other safety and health regulations, personal protective equipment, and the development of safety and health management plans. Following the training, an online test was sent to all participants who wanted to be certified.
Chuck enjoyed participating in the training with SRAP staff Inetta Fluharty and Lani Carlson.
Submitted by Chuck Baldwin
---
CORRECTION: In the last e-Note we reported that six 1890s attended the UAPB AgrAbility Workshop in May. That number should have been five, as one person listed from AL did not ultimately attend.