July 2015
West Virginia
As part of its veteran and minority agriculture program efforts, WV AgrAbility staff members from WV State University (WVSU)Extension Service are working on the high tunnel construction project at the National Guard Armory in Welch, WV. The purpose of the project is to develop an agricultural incubator program to educate veteran and minority farmers on how to use alternative agricultural production technologies. To make this effort a reality, WVSU is collaborating with the WV Army National Guard and the WV Department of Agriculture. The first phase of the program includes education about aeroponic/hydroponic production and mushroom cultivation techniques in a high tunnel scenario. The WVSU Aquaculture Research Team has installed a pilot project involving an aquaponics system. Pending the receipt of a grant recently submitted, this program is expected to expand exponentially in the future. The estimated start date for the entire system is late July 2015, with hopes of extending the 2015 growing season into late November. Educational workshops will continue to be available on a regular basis in the Welch Armory, as well as at the Five Loaves and Two Fishes Food Bank in Kimball, WV. http://www.wvstateu.edu/Land-Grant/WVSU-Extension-Service/Agriculture-Natural-Resources.aspx
---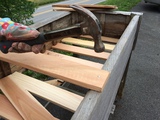 The West Virginia Assistive Technology System (WVATS), a West Virginia AgrAbility partner, renovated old raised garden beds for its agricultural demonstration project outside of the Center for Excellence in Disabilities building at West Virginia University in Morgantown, WV. AgrAbility staff member, Carmen Fullmer, also an Assistive Technology Specialist for WVATS, refurbished two old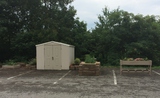 waist-high garden beds. She removed the wooden legs of one box to make it a low level raised bed, and added bracing to a wheelchair accessible raised bed to stabilize it. Then she painted both beds and prepared them for planting. This summer, WVATS planted vegetables, herbs, succulents and flowers in its indoor and outdoor demonstration areas. http://www.cedwvu.org/
---
During the monthly "Lunch and Learn" program at the Tucker County Senior Center, WV AgrAbility staff member Inetta Fluharty provided a training class and assistive technology demonstration to 58 senior citizens on "Gardening As We Age - How Can AgrAbility Assist?". Demonstrations of hay bale gardening, container gardening, and lasagna gardening, gave participants knowledge of options to initiate in various garden areas. Many class participants noted that the arduous task of soil preparation is a major obstacle to gardening. They later commented that methods taught in the class addressed those concerns. Ms. Fluharty demonstrated various forms of assistive technology for use in gardening. Participants were given an opportunity to practice using the AT equipment. Several devices were a huge hit since they were new to the participants, including:
Gas can siphon hose. This device allows an individual to fill gas-powered devices without lifting a heavy gas container. The hose attaches to most gas containers, and has an on-off valve for ease of use.
Anti-vibration gloves. Available in either full or finger free versions, these gloves absorb some of the vibration from various tools. Class participants evaluated how their hands felt after using an electric rotary sander while wearing - or not wearing - the gloves. They evaluated several gloves with varying degrees of shock absorption. Participants exclaimed how helpful these gloves would be to wear when using a weed-eater or rototiller.
http://www.nonprofitfacts.com/WV/Tucker-County-Senior-Citizens-Inc.html
---
During a farm safety day camp in north central West Virginia, WV AgrAbility staff Tom Stockdale spoke to 252 fifth grade students at the Taylor County Middle School. His training topics included "WV AgrAbility" and "Safe and Proper Use of Fire Extinguishers". He provided visual aids and supplemental props to introduce the two topics to the fifth graders. http://www.wboy.com/story/29252887/farm-safety-day-at-taylor-county-middle-school
---
Attended by WV AgrAbility staff member, Inetta Fluharty, the RESNA (Rehabilitation Engineering and Assistive Technology Society of North America) Conference was held in Denver, Colorado, on June 11-14, 2015. The theme of this year's conference was "New Frontiers in Assistive Technology." Conference highlights included: "New Technologies in Seating and Mobility," "Universal Design and Environmental Accommodations," "Electronic Aids to Daily Living," "Assessment and Evaluation of Assistive Technology," and "Best Practices for Recommending Assistive Technology". A developers' forum, interactive poster sessions, and student design competitions were included at the conference, in addition to other instructional courses and workshops. https://www.resna.org/news-events/events-calendar/resna-2015-annual-conference
---
The annual ISASH (International Society for Agricultural Safety and Health) Conference was held in Normal, Illinois, on June 21-24, 2015. ISASH member and WV AgrAbility staff member, Inetta Fluharty, attended the four-day event, which included training for the agricultural safety and health community. The conference is a clearinghouse for research and intervention ideas. It brings together engineers, educators, insurers, physicians, nurses, veterinarians, statisticians, communicators, anthropologists, business leaders, and many others; all whom play an influential role in improving the status of agricultural safety and health for workers. Concurrent sessions included topics such as "Strategies on Safety Curriculum," "OSHA Standards in Agriculture," "The Influence of Age on Farm Safety and Health," and many others. Various committees offer an opportunity for members to participate in focus areas. Ms. Fluharty is a member of the committees Rural Occupational Health, and Family, Farmstead, & Leisure. This year, Ms. Fluharty and Lani Carlson (Maine AgrAbility) are co-authoring a publication on the topic of "Safety and Health Issues for Aging Farmers" for National Farm Safety and Health Week, September 20-26, 2015. http://isash.org/2015-isash-conference/
---
WV AgrAbility staff member, Inetta Fluharty, attended the ISASH Certificate Course held June 24-27, 2015. This course establishes core competencies in the agricultural safety and health profession. Upon course completion and achieving a passing score on the examination, successful participants receive ISASH certification as a Certified Agricultural Safety and Health Professional. http://isash.org/wp-content/uploads/2014/06/2015-Certificate-Course-Flyer.pdf

Submitted by Janet Della-Giustina