August 2015
Maine
Ellen Gibson, of Goodwill Industries of Northern New England, recently attended a day-long farm tour event hosted by the Farmer Veteran Coalition to support AgrAbility efforts with this group. The meeting, including a farm tour and locally sourced barbeque, was held at Ireland Hill Farms to spark renewed interest in the development of a Maine chapter of FVC. Jerry Ireland was honored as the first Maine veteran to use the brand "Homegrown by Heroes." As a result of this event, Maine AgrAbility will be working with three new clients.
---
http://www.foxbangor.com/news/local-news/10494-state-of-maine-joins-homegrown-by-heroes-program.html
This is an article on progress being made by the Farmer Veteran Coalition in Maine. Maine encountered some stumbling blocks in trying to form a state chapter. Now the national FVC has established protocol to guide this process.
---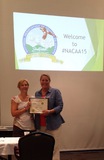 Maine Project Coordinator Lani Carlson recently attended the National Association of County Agricultural Agents (NACAA) Annual Meeting and Professional Improvement Conference (AM-PIC) in Sioux Falls, SD. Lani received the National Award in the Search for Excellence - Farm Health & Safety category, presenting the success and impacts of the Maine AgrAbility project in Maine.
Submitted by Lani Carlson