August 2015
Missouri
Janet Hurst, farm outreach worker, Franklin and Warren counties; Susan Jaster, farm outreach worker, Lafayette and Ray counties; and Reneesha R. Auboug, farm outreach worker, St. Charles and Lincoln counties, from Lincoln University Cooperative Extension Innovative Small Farmer Outreach Program, collaborative partners with the Missouri AgrAbility Project, are proactively facilitating six AgrAbility small farmer client cases.
---
Ten AgrAbility military veteran farmers sat side-by-side with 16 other academy participants attending the Third Annual Agroforestry Academy sponsored by MU Center for Agroforestry, July 20-24. All military veteran farmers received full or partial scholarships (their choice) to attend the academy. The week-long academy training included integrated classroom workshops, multiple on-farm visits, and content integration into practical on-farm agroforestry planning and design. The cornerstone of the academy was an applied planning and design exercise. Academy trainees worked in small groups to gain hands-on practice in agroforestry design based on the needs of a working farm. Academy trainers and graduates form the core of the knowledge infrastructure needed to enhance landowner adoption of agroforestry, resulting in increased sustainability of rural communities and the food and agricultural system. Agroforestry is a land management approach that provides opportunities to combine productivity and profitability with environmental stewardship, resulting in healthy and sustainable agricultural systems that can be passed on to future generations. To advance adoption of agroforestry as a cornerstone of productive land use, the agroforestry academy is designed to train both educators (e.g., natural resource professionals, extension agents), and farmers, including beginning and military veteran farmers. Advanced training will be provided on the main temperate zone agroforestry practices integrated with options for bioenergy, marketing, economic, social dimensions, and environmental services.
---
Missouri's AgrAbility program and Lincoln University Cooperative Extension's Veteran Farmer Projects with the Center For Rural Affairs (CFRA) was published in the Issues in the Profession Veteran to Farmer Programs: An Emerging Nature-Based Programming Trend, by Lesley L. Fleming, MA, HTR, Journal of Therapeutic Horticulture, American Horticultural Therapy Association, 2015: Volume XXV, Issue 1, pages 27-48. USDA National Institute of Food and Agriculture's Beginning Farmer and Rancher Development Program and AgrAbility Program are also mentioned on page 46.

Submitted by Karen Funkenbusch
---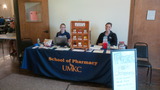 University of Missouri-Kansas City student pharmacists Lauren Aversman and Olivia Schwaller presented an educational seminar titled Take as Directed: The Price YOU May Pay for the Drug You Didn't Take: A Review of Medication Reminder Tools for a support group sponsored by Missouri AgrAbility partner Brain Injury Association of Missouri in St. Louis on July 15. This group, composed of survivors of brain injury and their family members, learned more about the importance of taking medications as directed and risks of secondary injuries due to medication interactions and side effects. The presentation is being formatted for distribution to NAP as an informational resource tool.
---
Pharm to Farm health and safety outreach was provided at three rural Missouri events along with Missouri AgrAbility Project information provided to potential clients. Exposure and publicity were provided through flyers posted around the area of the events and in social media posts on county fair Facebook sites.
Miller County Fair: six individuals received blood pressure screening, seven individuals received blood sugar screening, and four individuals received bone density screening.
Corder Picnic: six individuals screened for bone density and blood sugar, and ten individuals received blood pressure screening.
Randolph County Fair: ten individuals received blood pressure screening and heart health education, four individuals received blood sugar screening and diabetes prevention information, and six individuals received bone density screening and bone health information.
Submitted by Kelly Cochran
---
Maureen Cunningham with the Brain Injury Association of Missouri is working with community partners from The Whole Person, RIKC (Rehab Institute of Kansas City), Missouri Vocational Rehabilitation, Department of Health and Senior Services, and others, to establish a new support group for survivors of brain injury and family members in the Kansas City metropolitan area. The facilitators will be survivors of brain injury, whose responsibilities include scheduling speakers, leading discussions about returning to work with AgrAbility as an option, living independently with the community, and reducing risk of secondary injuries.
---
Marketing, networking, and educational opportunities, continued in June and July 2015 with Brain Injury Association of Missouri representatives discussing AgrAbility at meetings of Missouri Association of Missouri Rehabilitation Facilities, Missouri Brain Injury Advisory Council, St. Louis University Public Health professors, and St. Louis Center for Hearing and Speech.
Submitted by Maureen Cunningham