August 2015
Tennessee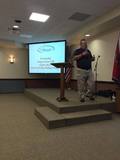 TN AgrAbility staff were proud to be part of the Progressive Agriculture Safety Day at the 2015 Young Farmer and Ranchers Farm Bureau Summer Conference in July. Special thanks to the Kentucky Department of Ag Farm and Home Safety Program, and the KY Fire Commission, who brought five trailers of demonstrations, including PTO safety, a tractor roll-over simulator, ATV safety, and grain bin safety demonstrations. Special thanks to Dale Dobson, KY Administrator of Farm and Home Safety Program, who presented a compelling, energetic "Life, Death, and Reality" talk and encouraged farmers to make safe choices.
---
David R. Johnson and his wife, Avice, operate a produce farm in Whiteville, TN. In 2010, David's right leg was amputated above the knee due to complications from an illness and medications.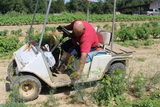 This did not stop them from providing produce for local farmers markets. They raise produce starting in early spring and continuing into late fall. Over the years, his disability has made it difficult to get on and off his 4020 John Deere tractor. He also uses a golf cart for mobility around his farm, and he found that when the ground becomes muddy, he is unable to check or pick his produce, due to the possibility of getting stuck.
Lee Sammons III, UT/TSU Extension Agent in Hardeman County, contacted Joetta T. White, Area Specialist with UT/TSU Extension and TN AgrAbility to see if anything could be done for Mr. Johnson.
Joetta contacted Jamie Perry with Midsouth Farmer's Cooperative www.midsouthcoop.com with whom David does business for his produce crop. Midsouth Farmer's Cooperative was able to lend a helping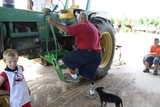 hand with mud grip tires for the golf cart and TN AgrAbility provided tractor steps with handrails for easier access on his tractor.
"I am so very grateful for the tires and tractor steps! It makes my job easier.", said David. Mr. Johnson has help from his wife, farm hand Blake, and great grandsons, Hunter and Jacob.
Submitted by Joetta Turbeville White