September 2015
National AgrAbility Project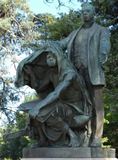 An AgrAbility workshop focused on the 1890 land grant institutions is to take place at Tuskegee University, Tuskegee, Alabama, October 7-8, 2015. The aim of this workshop is to enhance the relationships between AgrAbility and the 1890s. As an introduction to AgrAbility, attendees of this workshop will be made aware of means and resources that are available to them to help the agricultural workers with disabilities among their constituencies. They will also have the opportunity to meet and talk with farmers who have benefited from AgrAbility, and the occasion to speak with other 1890 leaders about how their institutions are collaborating with AgrAbility projects. Life Essentials will also be on hand to share valuable information on assistive technology.

SRAPs are invited to send any personnel interested in furthering their understanding of, and relationships with, the 1890s institutions in their interactions with AgrAbility. For further information, please contact Chuck Baldwin at baldwi19@purdue.edu, or by phone at 574-306-7329.
Submitted by Chuck Baldwin
---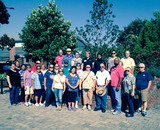 The Arthritis, AgrAbility and Rural Health Conference (AARHC) was held August 24-27 in Knoxville, Tennessee. This conference was a combined effort between National AgrAbility partners the Arthritis Foundation and Goodwill of the Finger Lakes with the Tennessee AgrAbility Project. The AARHC presented an exciting opportunity for rural professionals and farmers alike by offering sessions that provided evidence-based strategies to aid farmers and ranchers battling the many forms of arthritis and other disabilities, while aiding farmers in learning how to adjust their operations to maintain their independence and success despite a disability.
The AARHC consisted of an arthritis pre-conference event on Monday evening with speakers from the local Arthritis Foundation office and an exercise session. Tuesday's arthritis conference included a full day of speakers for a total of nine sessions. Thursday's schedule was focused on AgrAbility training with a variety of topics ranging from farm assessment to bee keeping, and veterans' affairs. The star of the show was Dr. Deborah Reed, ag nurse, who presented the keynote session on both the Tuesday arthritis conference and the Thursday AgrAbility training. Dr. Reed's humor and life experiences allowed her to connect very well with the audience.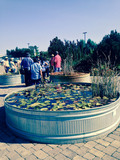 The conference meals allowed all attendees the chance to network and mingle, and all attendees were provided the chance view vendor, nonprofit, and agricultural exhibits, as well as an assistive technology show-and-tell. A full-day of Tennessee agritourism was included, and allowed attendees to explore the University of Tennessee's veterinary school, horticulture gardens, turfgrass research center, and farmer's market. And a trip to Tennessee wouldn't be complete without taking the short drive to nearby Sevierville/Pigeon Forge/Gatlinburg, where the attendees were given a behind the scene's tour of the Ole Smoky Moonshine Distillery!
Throughout the four-day conference, a total of 38 people participated in some way, and 10 states were represented (IN, KY, CA, CO, NY, NM, TN, KS, NC, and VA).
All speaker presentations and files related to the conference will be posted at http://arthritis-ag.org/national-conference/ as soon as they are available.
Submitted by Amber Wolfe