October 2015
Missouri
Joseph Brajdich participated in two ag health and safety days and used hands-on demonstrations to aid in the prevention of secondary injuries. During the Progressive Agriculture Health & Safety Day in Prairie Home, MO, Joseph demonstrated ergonomic hand tools to 1st through 6th graders, and discussed the challenges people with limited strength, limited mobility, arthritis, back problems, or hand problems, face while gardening. One 140 children thought the ergonomic hand tools were cool and some even commented that their parents and family members with disabilities could benefit from using them.
---
During the Missouri Cattleman's Association Farm College Safety Academy at the MU Beef Research Farm, Joseph demonstrated the dangers of flowing grain while showing the proper use of health and safety equipment. Ninth through twelfth graders attended this all-day event and were able to participate in hands-on demonstrations. One of the eye-catching teaching tools was a set of four respirators ranging from a dust mask to a full face PAPR respirator. Students were very interested in the respirators and wanted to get them for their family members. The feedback received from the anonymous surveys was very positive. Over 150 high schoolers attended this health and safety event.
---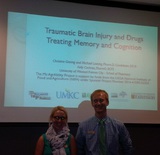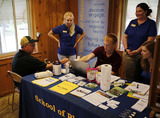 Information on the Missouri AgrAbility Project and Pharm to Farm health and safety outreach was provided at the MU Southwest Missouri Research Center Field Day in Mt. Vernon, MO, on Sept 11.With the help of 3 student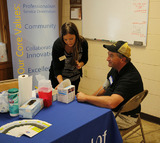 pharmacists and 3 pharmacists, attendees were provided blood pressure screenings and education for 15 people, bone density screenings and education for 13 people and blood sugar screen
---
The Brain Injury Association of Missouri (BIA-MO) 11th Annual Statewide Conference is to be held October 15 - 17, 2015. AgrAbility is the featured veterans track sponsor with the keynote session entitled "The Impact of Blast Exposure and Signs of Early Aging in Brains of Troops" to be presented by Regina McGlinchey, PhD, and Benjamin Trotter, BS, with the Translational Research Center for TBI and Stress Disorders of the VA's Rehabilitation Research and Development TBI Center of Excellence. In addition, Karen Funkenbusch, PI for the Missouri AgrAbility Project, will participate in a panel discussion about resources for individuals with brain injury to help them be productive within the community, including the option of self-employment in farming or ranching.
Submitted by Maureen Cunningham