November 2015
National AgrAbility Project
Join us for the 2015 AgrAbility Virtual National Training Workshop on December 1-3. The schedule has been set, and registration is now open. Each webinar is slated to last for one hour.
Tuesday, December 1, 11:00 a.m. EST
Cultural Competency: Outreach to Migrant/Seasonal Farmworkers
Presented by Mary Jo Dudley, Director, Cornell Farmworkers Program
Tuesday, December 1, 3:00 p.m. EST
Updates from NIFA on AgrAbility and Related Programs
Presented by Aida Balsano, USDA/NIFA
Wednesday, December 2, 11:00 a.m. EST
PTSD and the Disabilities of the Post 9/11 War Veteran
Presented by Captain Guy Zierk, Marine Corps Wounded Warrior Regiment
Wednesday, December 2, 3:00 p.m. EST
Selecting a Wheelchair for Agricultural Use
Presented by Dee Jepsen and Brittany Cowgill, Ohio AgrAbility
Thursday, December 3, 11:00 a.m. EST
Coming Home: Personal Perspectives from a Returning Veteran
Presented by Daniel Madson, Post-9/11 Veteran and Purdue University Undergraduate Student
Thursday, December 3, 3:00 p.m. EST
Carpal Tunnel Syndrome and Arthritis: Overworking the #1 Tool in a Farmer's Toolbox
Presented by Ned Stoller, Michigan AgrAbility and Amber Wolfe National AgrAbility Project
Visit https://purdue.qualtrics.com/SE/?SID=SV_6Wo1yP9jNcyJxAN to register. The registration deadline is Friday, November 27.
Submitted by Paul Jones
---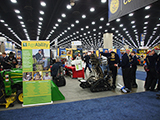 The NAP continued its presence at the annual National FFA Convention on October 28-30 with an extensive display of assistive technology and program information. Life Essentials partnered with the NAP on the booth, which included a John Deere 2305 tractor with a loader, backhoe, and seat lift; a Journeyman scooter; and an ActionTrack wheelchair. More than 60,000 FFA members participate in the convention each year.
---
The Assistive Technology Community of Interest met via conference call on October 15, 2015, to discuss the various aspects of liability connected to providing assistive technology services. The session was moderated by Steve Swain with good discussion following. The next conference call will be on December 17, 2015, at 2 PM EST when Rod Peterson, with the Nebraska AgrAbility Project, will lead a discussion on cattle-working equipment for farmers and ranchers with disabilities.
Submitted by Steve Swain
---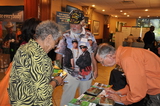 Chuck Baldwin, NAP's special populations outreach coordinator, attended the 25th annual conference of the National Black Farmers Association (NBFA) as a presenter and exhibitor, November 6-7, in Birmingham, AL. More than 300 representatives of the African American agricultural community from many different states attended.
Special speakers for the conference, either in person or by video, included Dr. John Wesley Boyd,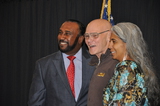 Jr. (founder and president of the NBFA), Tom Vilsack (secretary of agriculture), J. Latrice Hill (director of outreach USDA/FSA), James Carville (political consultant), Jim Ewing (NASS southern region director), Stephanie Young (director of African American outreach, White House Office of Public Engagement), Kara Boyd (Dr. Boyd's wife, NBFA program manager and co-founder/president of Association of American Indian Farmers), Gena McCarthy (administrator, EPA), and a host of others. In addition, letters of good will and congratulations were received from President Barack Obama, Tom Vilsack, Hillary Clinton, and Teri Sewell.
Most of the organizations under the USDA were in attendance at the conference, as one of the primary messages of the NBFA to its members was that, due to laws that have been passed in recent years (thanks in no small part to the work of Dr. Boyd and the NBFA) opening more doors for minorities in agriculture, the NBFA membership needs to understand what these organizations have to offer and to take advantage of their various programs and services.
Another strong message was that, while African Americans in agriculture devote regular time to maintaining their farms and families, more of them need to put time into their civic duties: voting and making sure that lawmakers understand their position on important issues that they are facing.
The need for every farmer/rancher to have a written will in order to assure the passage of farms and land to the next generation was another emphasis.
A number of awards were handed out at the conference, such as the NBFA Farmer of the Year award, President's Award, and others, and several scholarships toward college were presented to deserving African American young people interested in pursuing agriculture as a career.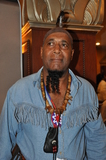 One of the new experiences for Chuck at this conference was getting to know some black Native Americans - mixed-race descendants of marriages between Blacks and American Indians - and hearing their stories of struggle for acceptance in the American society.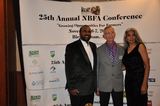 Dr. John and Kara Boyd showed a personal interest in the work of AgrAbility and an appreciation for AgrAbility's participation in the NBFA conference. They expressed a desire to have AgrAbility continue to participate with the NBFA in the future.
Submitted by Chuck Baldwin