November 2015
Tennessee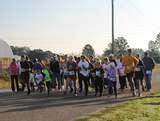 The Tennessee AgrAbility Project (TAP) started October off by volunteering at the first annual TLC Therapeutic Riding Center 5K/1 mi Fun Walk. There were 37 runners/walkers for the brisk, cool October morning event. Over $1000 was raised to benefit those with disabilities through their riding experience.
---
---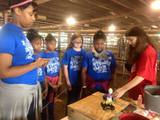 TAP was involved in two school farm days for 600 5th graders from Weakley and Fayette Counties. Tennessee AgrAbility demonstrated the importance of wearing helmets while participating in any activity that requires a helmet. Volunteer Madison Morris, senior at Fayette Academy school, led the helmet demonstration at the Fayette County Ag Day.
---
TAP was busy wrapping up 2015 field days in TN. The staff promoted AgrAbility at the University of Tennessee Institute of Agriculture annual alumni "Ag Day" where the ad campaign "mAGic Moments" kicked off, because there is no magic without AG. #TNMAGICMOMENTS
---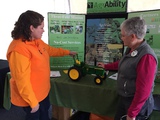 TAP exhibited at the Northeast Tennessee Beef Expo in Greenville, TN, and at the Ag in the Foothills Field Day in Walland, Tennessee. The project had a booth next to the University of Kentucky Nursing where Dr. Deborah Reed was promoting older farmer farm safety and health. Her blue (UK) tablecloth got lots of attention in orange country, plus she took blood pressures and is recruiting farm couples for older farmer study. Tennessee AgrAbility looks forward to working with her in the future on other projects.

Submitted by Joetta Turbeville White