November 2015
Wisconsin

The Easter Seals Wisconsin FARM program was recently awarded $496,914 by the USDA for a three-year project, Securing Beginning Farmers Through Succession Planning. The project addresses the need of Wisconsin farmers who do not have succession plans in place, estimated at 56% of farmers over the age of 55, to ensure the successful transition of farm operations to the next generation of beginning farmers. This project will be promoted through AgrAbility of Wisconsin, an Easter Seals Wisconsin - UW-Extension partnership, dedicated to helping farmers with a disability continue to farm.
---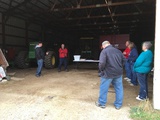 The first fall Neighbor-to-Neighbor meeting was held Tuesday, October 27th at Kevin Buswell's farm in Fountain City, WI. Six farmers were in attendance, and all took advantage of the opportunity to compare notes on what is working on their farms and share ideas of what could be done better. The meeting was held so that individuals who are new to the program can meet with farmers who are nearing completion of the program to discuss the process and their successes.
---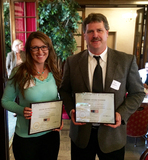 AgrAbility of Wisconsin has been named a Silver Spirit of the Americans with Disabilities (ADA) award winner through Disability Rights Wisconsin (DRW). The award recognizes programs that are positively changing and improving the lives of people with disabilities in Wisconsin.
"Since the passage of the ADA 25 years ago, people with disabilities have enjoyed increased access to employment, education, recreation, and government services, which contributes to better communities for all," said Daniel Idzikowski, Executive Director of Disability Rights Wisconsin. "At DRW we advocate every day so that all people with disabilities can exercise the full extent of their rights and pursue the greatest possible quality of life," he noted.
Through direct education and on-site assistance, the AgrAbility project serves farmers throughout Wisconsin with injuries, disabilities, or illnesses that affect their ability to work safely and effectively. In partnership with the University of Wisconsin Cooperative Extension and Easter Seals Wisconsin, AgrAbility offers information on modification and adaptation of farm equipment and operations, farmstead accessibility, and assistive technology while connecting farmers with disabilities to the resources that allow them to continue their rural lifestyle. "AgrAbility of Wisconsin has been around for nearly 25 years now, and has maintained a 98 percent success rate in keeping farmers in the work that they love," said Hannah Barthels, AgrAbility Outreach Specialist. "It's an honor to be recognized outside of the agriculture community, and to know that our work is making such a difference."
AgrAbility of Wisconsin has been so successful because of the strong partnership of UW Extension, UW-Madison Biological Systems Engineering, and Easter Seals Wisconsin (also recognized as a Silver Award winner), as well as the commitment of Wisconsin Division of Vocational Rehabilitation (DVR) to agricultural clientele, according to Dick Straub, the project director.
Submitted by Hannah Gerbitz