November 2015
West Virginia
WV AgrAbility continues to participate in the Assistive Technology Community of Interest. This month, the discussion on Liability Issues with Assistive Technology and recommendations was led by Steven Swain. WV AgrAbility is also participating on the National Training Workshop Planning Committee.
---
The WVCEOS (West Virginia Community Education Outreach Service) Annual Conference was held at Jackson's Mill State 4-H Camp from October 6- 8. The vision of the WVCEOS organization is to be a leader in strengthening individuals, families, and communities, in becoming productive contributors for the purpose of meeting the needs of our changing and diverse society. At the 2015 CEOS conference, WV AgrAbility presented sessions on ergonomics and accessible gardening to 15 individuals. Proper body mechanics and ergonomic tools were demonstrated. During the session, participants were able to practice techniques and learn how to use the equipment. For additional information, visit: http://ceos.ext.wvu.edu/
---
WV AgrAbility continues to provide information and resources to farmers requesting assistance. During the month of October, WV AgrAbility conducted a farm site assessment and is working with WV Division of Rehabilitation Services on securing funding for needed agricultural modifications for the client. Also in October, a resident of rural Mercer County, WV, reached out to WV AgrAbility for assistance in his diversified agribusiness. The individual is completely paralyzed from the waist down, a condition sustained after he fell from a roof. WV AgrAbility is working with the individual on increasing the accessibility of his apiary, as well as his mobility around his farm.
---
On October 16, 2015, farm safety was the main topic showcased at Mercer County Elementary School in WV. Experts from WV AgrAbility also highlighted the topic of disability awareness. Over 800 elementary students learned about the effects of injuries on the human body. Fifty to sixty different types of assistive technology equipment were displayed. Groups of 15-20 students were engaged in activities designed to explore the differences involved in learning, mobility, and developmental disabilities. The activities included examples of skills required for individuals with physical limitations, including how to put on shoes and socks. For additional information, see: http://www.progressiveag.org/
---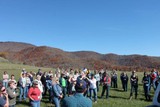 The second annual WV Women in Agriculture Conference was held October 23-24, 2015, at Canaan Valley Resort and Conference Center in WV. WV AgrAbility provided an exhibit during the duration of the conference, and representatives spoke with many individuals on the use of assistive technology and ergonomics in their farming operations.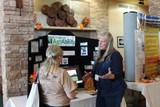 The WIA conference offered tracks on topics of "Livestock", "Horticulture", "Sustainable Production and Management", and "Technology Use on the Farm". The conference began with farm tours during which attendees visited Harper's Farm (located in Seneca Rocks, WV), Potomac Highlands Food and Farm Market, and Blackwater Brewing Company (both located in Davis, WV). For additional information, visit: http://anr.ext.wvu.edu/ag-women

Submitted by Janet Della-Giustina