December 2015
Kentucky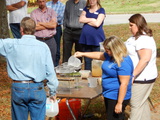 KY AgrAbility ends the year with a busy schedule of events. The November events had staff everywhere from Kentucky to California. The west ag and natural resources agent training in Princeton was very informative. Approximately 100 staff and presenters spent two days in Princeton, KY, on the KY Research Farm. This event overlapped with the North American Livestock Show in Louisville. John Hancock, KY project director, and Buddy, attended this major event at the KY Fair and Expo Center.
---
The next event was in Sacramento, CA, for the Farmer Veteran Coalition Stakeholders Conference. This was one of the most informative workshops for veteran farmers that KY AgrAbility has had a chance to attend. The three-day conference covered subjects such as funding for new farmers, caregiver classes, new technology, and success stories. AgrAbility had a significant presence at the event. Several states attended, and Cindra Chastain, farmer veteran AgrAbility coordinator from NAP was a speaker at the conference. It is always great to share information with other states, and California AgrAbility had a lot of information to share. KY AgrAbility was able to make connections with a couple of KY farmers that were attending the workshop. (We had to travel all the way to California to find new clients.) Also attending was an alpaca rancher from Madison County, KY, Alvina Maynard, who is a veteran and a new member of KY AgrAbility's extended staff. The convention center is across from the California Capitol building and the gardens next to it are inspiring. After sitting in sessions during the day it was the perfect place to walk and unwind. Several booths, including the California AgrAbility booth, were set up with a lot of information for the attendees. At the same time, KY AgrAbility hosted the Third Thursday event at the Kentucky State University Research Farm in Frankfort, KY. Mike Lewis, KY Growing Warriors director, was the main speaker this year. The information was well received and a veteran that was trained at the farm was recognized for his progress in overcoming an injury he received while on deployment. Representatives from the KY VA were there also to show how they have learned to incorporate agriculture into the rehabilitation of returning veterans.
---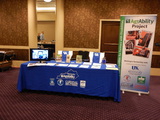 Final year-end reviews of work done with KY AgrAbility partners are in progress as well as making preparations for 2016. KY AgrAbility partner, KY Appalachian Rural Rehabilitation Network, held their meeting on December 1st. This was followed by the KY Farm Bureau Annual Convention December 2-5. KY Farm Bureau is one of the staff's favorite events. Many of the KY AgrAbility clients participate in this event and it is a time to catch up with some old friends and make new connections.
Submitted by Linda Bokros