December 2015
Tennessee
TN AgrAbility was grateful for its many blessing in November and was especially thankful for veterans. TAP helped produce a video highlighting one of its local wounded U.S. veterans turned farmer. Captain Michael Trost and his wife Stephanie are beginner farmers. They were guests at the National AgrAbility workshop in the spring of 2015 and are exploring different types of farming. They want to microfarm with some raised beds, small horses, mules, and maybe llamas. Mike is also interested in growing hops but still researching options. Here is the YouTube link to the TV piece that Charles Denney produced for Veterans Day. Thank you to Captain Trost, U.S. Army veteran and farmer. "Take time to reflect, take stock, and look at what we do have. Thank a Soldier, Sailor, Marine, or Airman and ALL Veterans and spouses!"
https://www.youtube.com/watch?v=eS-R3PJ5ZhI
---
TN AgrAbility was proud to host the first TN Older Farmer Farm Safety and Health Dinner Theatre in Sullivan County with Dr. Deborah Reed and the University of Kentucky Nursing department. It was well received. Using realistic farm stories, discussions on farm safety were encouraged and understanding of how aging affects health and safety on the farm was gained.
---
TN AgrAbility attended the Livability Summit: Making Communities Livable for All Ages, All Abilities. It was hosted by the City of Knoxville, the Knoxville-Knox County CAC Office on Aging, and the Tennessee Commission on Aging and Disability. Livable Communities allow all people to maintain independence and quality of life through economic prosperity, built and natural environments, affordable and accessible housing, adequate mobility options, and engagement in civic and social life.
---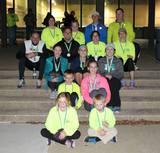 The 2nd annual TN Ag RUN Ability GLO RUN was held in November. The number of runners was down but there was still a great turnout, lots of fun, and best of all, it increased the amount of money raised in 2014 to help Tennessee's agriculture producers. TN especially thanks their sponsors: Farm Credit Mid America, The Andersons, Green Plains, CO-OP, and Tennessee Tractor.
---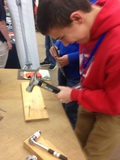 The 1st Annual Obion Co. Young Farmers and Ranchers AG Career Day was held at the Obion Co. Central High School. Seven hundred high school students attended. To draw students to the Tennessee AgrAbility booth, the most popular HAMMER-NAIL-ONE HANDED demonstration was used (not realizing there is a magnet on the end of the hammer, unless there is an ag teacher to stand there and point it out.)
Submitted by Joetta Turbeville White