January 2016
Tennessee
Tennessee AgrAbility closed out 2015 with end of year reporting and planning for a great 2016! Staff participated in the informative BNG webinars/Virtual National Training Workshop. They also represented AgrAbility at the Tennessee Association of Ag Agents and Specialists Annual Eastern Region and toured Dupont and Wamplers in Loudon Country, TN. In addition, staff exhibited at the annual TN Farm Bureau Convention.
---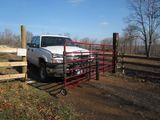 TN AgrAbility is proud to help a retired Roane County FFA teacher who now raises beef cattle and farms full-time with heart conditions, arthritis, and diabetes. He modified his own tractor steps after staff showed him some ideas. A BIG thank you to Roane County Farm Bureau and Ag Central Farmers Co-op who purchased two Bump-N-Drive Gates that staff found on The Toolbox AT Database. He is now able to get safely on and off his tractor and easily drives through the gates. Thanks to his long relationships with the agribusinesses over the years, they quickly offered to help him.
---
East TN Technology Access Center, a a TN AgrAbility partner, hosted their annual Toy Tech drive. Toy Tech is an annual holiday party for children with disabilities and their family and friends. Donated toys are adapted by volunteers and then given away at the party to children who cannot play with typical toys. Thank you to all the volunteers, to Junior League of Knoxville, and for all the toy and food donations.
---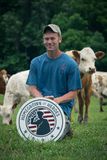 Charley Jordan of Circle J Ranch is working to try to get a Farmer Veteran Coalition chapter in TN. He says, "FVC is a great organization that has given me inspiration and motivation to continue my agricultural endeavors. I'm also a recipient of a 2015 FVC Fellowship Grant which has already provided a generator for my freezer trailer. The 2016 Fellowship Grant application period is currently open and I encourage everyone to apply." For more info check out www.farmvetco.org.
---
Dates for the 2016 Tennessee New Farmer Academy were set (and information is listed in Upcoming Events. This is a six month certificate program designed for those with an interest in becoming agricultural entrepreneurs. Ideal candidates for this program include those who are new to agriculture, those who wish to transition into agriculture from another field, such as military service or private sector work, or those who are looking for a post-retirement opportunity.
Submitted by Joetta White